Blogs begin to play a prominent political role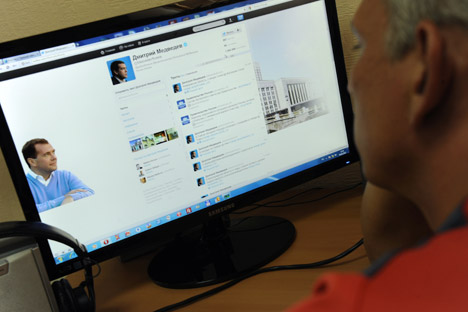 Prime Minister Medvedev's blog is one of the best known in Russia. Source: ITAR-TASS
Bloggers have become a fixture on Russia's political scene. Almost every governor, mayor or party official has a blog these days, though few have more than a thousand followers. RBTH takes a look at successful virtual political diaries and the real people behind them.
Blogger Alyona Popova got a phone call from a Moscow district administration. A press secretary with a stern voice on the other end invited her for an interview: "We have a part-time vacancy in the press service; care to blog for us for 30,000 rubles a month?"
Popova was greatly surprized: she had never blogged about politics, only about travel and her Persian cats that, amazingly, attract over 1,000 followers. The truth was soon revealed. It turns out that the press secretary had invited her to blog on behalf of the district's head.
The official could not seem to shed the habit of bureaucratic speak, which Popova managed to translate into normal language. But the official balked: "That's not my style. What would my colleagues say?" he fumed. Popova did not get the job, yet the district head got his blog – which reads more like a collection of press releases than a live diary.
"In principle, a politician or a mayor doesn't care about the entire Internet audience. It's O.K. if their blog is only perused by journalists, party comrades, and subordinates trying to figure out their boss's mood on a given day," said Marina Reznikova, press secretary of the permanent representative office of the Altai Territory.
"The Altai governor liked to keep a blog on his own and to receive feedback on his actions. This works instantaneously."
Almost every governor, mayor, or party official has a personal blog but readers normally have little trust in such bloggers. According to a Profi Online Research poll of Russian Internet users to gauge their attitude towards blogging by prominent politicians, 57 percent of the respondents viewed such blogs merely as a means for directing complaints or requests to officials, while 21 percent thought political blogs were an image-enhancement ploy.
Totally different tools are used to attract attention and influence opinions. "For example, we had to raise awareness about tourism in the Altai through blogs," said Reznikova. "So we invited well-known travel bloggers to come over, took them to beautiful places and entertained them. Then they blogged not only about nature and the hotel, but also about the governor, who welcomed them."
The blogosphere is no different from real life in that controversial figures arouse interest. Alexei Navalny's blog has long been the third most widely read journal among the top ten. But Navalny did not start out as a politician. He attracted readers with his offbeat past as a former FSB agent and with his muckraking articles.
He gained popularity through the blogosphere. Yet official politicians are unlikely ever to make it to the top ten. LDPR Chairman Vladimir Zhirinovsky's blog is second in popularity after the president's and the prime minister's page, but people read it not so much out of interest in politics as out of curiosity about the flamboyant politician's colorful language.
That said, according to experts, readers only get so excited about politics once every four years – before elections. It is hard to maintain the momentum afterwards. "Everybody and their grandmother curses the authorities online but this is not a political discourse. Interest in political blogs can only be kept alive by mixing the information with other subjects," said Ilya Goltsman, a blogosphere producer. "Political bloggers are only in demand because the media don't reflect the opposition's opinions."
State Duma deputy, Dmitry Gudkov, blogs by himself and posts almost daily, although he is not after maximizing his audience. Quality has been gradually squeezing out quantity as far as the blogosphere is concerned.
"If I were after all online readers, I would have been posting pictures of naked women on my page. But I only need the audience that I target," Gudkov said. "Interesting posts attract a huge audience – bigger than the conventional media. My most popular post was about the expensive cars government officials are driven in. To research it, we conducted a special inquiry and sent parliamentary requests for information to car dealers."
According to Gudkov, the audience often helps with the inquiries. There are volunteers willing to travel, photograph and look for documents and evidence. That is how the number of subscribers grows.
Perhaps this is also why State Duma deputies want to rein bloggers in. A legislative amendment has been proposed to equate blogs with more than 10,000 verified subscribers with mass media outlets. Bloggers respond with smiles, claiming that the web has its own laws and that is it impossible to change the situation by official decree.
All rights reserved by Rossiyskaya Gazeta.