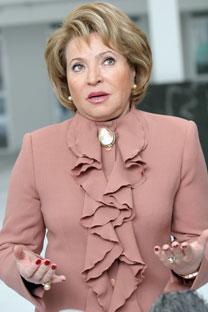 Valentina Matviyenko is the most influential woman in Russia for 2012, according to Russia's media. Source: ITAR-TASS
Russia is known for being a patriarchal country, but despite considerable barriers, some women leaders have managed to reach high levels in the political hierarchy.
Women make up only 13 percent of deputies in the Russian State Duma (61 seats out of 450, following the 2012 national elections), and at the federal level, their representation is even lower - at 6 percent.
In 2012, according to the Inter-Parliamentary Union (IPU), Russian was ranked 96 - as one of the bottom countries in terms of women's participation in politics and decision-making processes, along with Somalia and Swaziland - with only 13 female senators out of a total of 163.
As well as being limited in number, Russia's women politicians aren't portrayed as having a lot of influence, and none of them were listed in the Forbes' ranking of "the world's most powerful women".
Olga Kryshtanovskaya, an expert on the Russian political elite and member of Putin's United Russia Party, says that the patriarchal nature of Russian society is to blame for the low levels of women's political participation. She says that some high-profile male politicians have only "let in" women politicians who don't have their own opinions, look good and are essentially puppets.
However, Kryshtanovskaya believes that strong and independently-minded women-leaders are starting to emerge in Russia. And one recent example is Elvira Nabiulina, Russia's former Minister for Economics, who, this year, was hand picked by President Vladimir Putin to lead Russia's Central Bank. Nabiulina is the first woman to head a Group of Eight monetary authority.
The Russian Federation has never been ruled by a female prime minister or president, but it's not out of the question, according to Kryshtanovskaya, who thinks that Valentina Matvienko, may be a contender. The former governor of Russia's "second capital" St. Petersburg, Matvienko now chairs the Federation Council – the upper house of the Russian Parliament, having become the third highest-ranking politician in the country, after Putin and Prime Minister Dmitry Medvedev. Matvienko is known for her no-nonsense management style and her loyalty to the Kremlin.
Despite being a prominent supporter of Putin and working in his election campaign in 2012, Kryshtanovskaya says, albeit with a smile, that Putin has sexist attitudes and "is inclined to think a woman's place is in the kitchen".
According to a 2011 poll from VTSIOM (the All-Russian Centre for the Study of Public Opinion), 14 percent of respondents thought that Russia has too many female politicians, 37 percent thought that their number should be increased, while 33 percent thought the number should stay the same. Half of the respondents supported the idea of quotas for women politicians, and only 5 percent strongly opposed the idea.
Currently Russia doesn't have any prominent political parties which support the rights of women. Following the collapse of the USSR, the Women of Russia Party emerged, and - initially - had some electoral success. The conservative and essentially communist group, which positioned itself as promoting the interests of women and children, won 8.1 percent of the vote and 23 seats in the 1993 elections. However, the party is no longer a force in Russian politics and it hasn't changed its political platform in a decade.
Last year, however, the Russian Justice Ministry registered the new For Women of Russia Party, which positions itself as non-feminist but promoting equal gender participation. The party has around 100,000 members and promotes the "restoration of family values".
The Western feminist movement bypassed Soviet women and after the fall of Communism, feminism didn't get a good rap in Russia and has remained a fringe movement.
There have, however, been calls for the implementation of quotas for women politicians and Deputy Elena Mizulina is one prominent MP who promotes the idea.
Kryshtanovskaya, however, doesn't believe in preferential policies for women. She says it should be equal for all, and adds somewhat ironically: "Russian men are dying out at rapid pace." And she has a point: there are 10 million more women (76,275) than men (65,639) in Russia, and the death-rate in 2010 was 8707 women and 17,787 men per 100,000 citizens - according to VTSIOM.
In 2011, Russia's then Minister for Health, Tatyana Golikova, announced at a meeting with the UN High Commissioner Navanethem Pillay that Russia was preparing a gender-equality bill. "Russia doesn't have any gender-equality legislation to and, as yet, we don't have any real mechanisms to eliminate gender discrimination," she said.
However, the adoption of the bill was put on hold, and when a similar bill was approved by the State Duma in 2003, it was later blocked by the executive government.
Women politicians in Russia, as in many countries, are subject to sexist coverage in the mainstream media and blogsphere. Undermining them by ridiculing or unduly focusing on their appearance and making allegations about their sexual relations with male politicians is common. In Russia, this has seriously undermined the credibility of those targetted.
All rights reserved by Rossiyskaya Gazeta.