Former Kremlin ideologist and Indophile is back in the government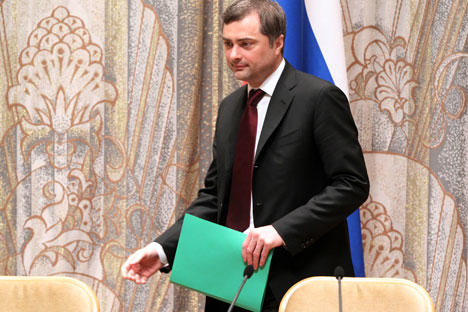 Experts note that it is unlikely the former Kremlin ideologist would be given greater authority right away, but maybe this post will be a stepping stone to further his political career. Source: Itar-Tass
Vladislav Surkov was named aide to President Vladimir Putin and will deal with Abkhazia and South Ossetia.
One of the most prominent Russian politicians has returned to a post in the president's administration. Vladislav Surkov, who has publicly expressed his affection for India and Hindi films, was named aide to the president and will handle Russia's relations with Abkhazia and South Ossetia. Experts predict that over time he may expand his sphere of influence across all of the former Soviet republics.
Publications have repeatedly reported that Vladislav Surkov was returning to the Kremlin. The reports were all denied. But the rumours continued to circulate about different posts that he could be offered. Finally the Kremlin website reported that he will in fact return. Russian President Vladimir Putin appointed Surkov his aide. His duties were not disclosed. However, the situation was clarified by presidential press secretary Dmitry Peskov who said that Surkov will oversee relations with Abkhazia and South Ossetia. "He will handle exactly the same issues that [Tatiana] Golikova handled as Presidential aide," said Peskov on the Russian News Service radio station. Asked when Surkov would start work, the press secretary said "the decree has been issued, that means he is already working."
Experts note that it is unlikely the former Kremlin ideologist would be given greater authority right away, but maybe this post will be a stepping stone to further his political career. "Appointing Surkov as aide to the president is an attempt to keep him as a player in the same political environment," noted political scientist Dmitry Abzalov in a conversation with RIA-Novosti. "It is possible that this post may be temporary for Surkov and in the future he will again be handling innovations." He believes that Surkov's portfolio in this post is rather narrow.
Abzalov added that perhaps this post will be temporary for Surkov, as it was for Golikova. "Maybe this is a temporary position, as was the case with Golikova and maybe he will go the innovative route, but I doubt that he will return to politics," said Abzalov.
Vice-President of the Center for Political Technologies, Alexei Makarkin, said that at this stage, Surkov is unlikely to influence domestic policy. "He will address specific issues in the post-Soviet environment. The main thing that is happening is that authorities want to keep Surkov inside, not outside. Despite the fact that he reiterated his unconditional loyalty to Putin many times, his free style is less acceptable," explains the analyst. "Perhaps Surkov will be given the task of uniting the Eurasian states. This, however, is a difficult task. For example, it is difficult to attract Ukraine to our side, because it is more interested in cooperation with the European Union. On the other hand, Belarus and Kazakhstan are part of the Customs Union, but they are very wary of the possibility of Russian interference in their internal affairs."
Mikhail Vinogradov, head of St. Petersburg Politics research centre, contends that Surkov's return to the Kremlin cannot be considered a turning point, because he has been given too little authority. "There will be high expectations for his work. For now, both Surkov and his opponents are winners. He is, because he returned and his opponents are, because he was given a small area of ​​influence," said the expert.
The general director of the Centre for Political Information Alexei Mukhin said that Surkov at this stage will have to re-build relationships with the president's team. "Vladislav Surkov has returned to the basics and is starting his relationship with the presidential staff with a clean slate. He will have to re-build relationships within the complex configuration that exists now in the administration," said Mukhin to RIA Novosti. According to him, whether Surkov can find a place there or not is all up to him.
It is still difficult to assess whether Surkov will be able to have much of an impact on politics in his new post. He was given one of the most complex issues to tackle, considers political analyst Mikhail Remizov.
Vladislav Surkov resigned his post as Deputy Chief of Staff in May. In his latest government position, he oversaw innovation. Prior to that, from August 1999, he was the Deputy Chief of Staff of the presidential administration. For 12 years in the Kremlin, he oversaw domestic politics as the Deputy Chief of Staff of the Kremlin administration.
Indian connection
Surkov's India connections go beyond his love for Hindi cinema, which he said he appreciates because there is a clear line between the good and evil in Bollywood films and that there is always the "hope that a miracle may happen." A senior Indian diplomat who served in Moscow told RIR that Surkov took an interest in the start-up scene in Bangalore and India's booming information technology centre. "He keenly followed the latest happenings in research and development coming out of India," the diplomat said on the condition of anonymity. "Even though he belongs to a more Westernised generation of Russian leaders, he values the country's ties with India."
All rights reserved by Rossiyskaya Gazeta.