Putin on divorce, FEMEN and Snowden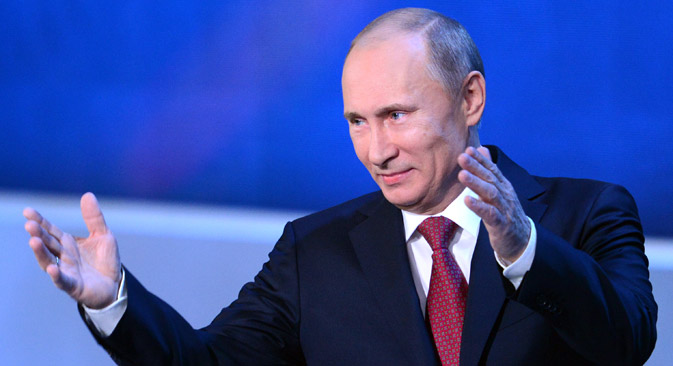 Vladimir Putin turns 61. Source: AFP / East News
Quotes from the Russian president in the last 12 months.
On Monday, Oct. 7, Russian leader Vladimir Putin turns 61. Reporters have gathered a few of his most interesting quotes from the last year.
On the expulsion of wrestling from the Olympic program, at the Sambo-70 School, March 12, 2013:
"It seems unjustified. The elimination of traditional sports that originally formed the basis of the Olympic Games and were included in the program in the days of Ancient Greece — those sports which started the Olympic Movement.
On the activities of girls from the FEMEN movement, April 2013:
"As for the girls — I missed breakfast this morning. So, if they had shown me a piece of sausage or bacon, it would have pleased me, but the breasts that they were demonstrating did not impress me much."
On the Internet, Nizhny Tagil, April 28, 2013:
"Well, on the Internet, one doesn't care what is written on the wall. No one even reads everything that is written on the wall; one's gaze does not even rest on the wall."
On his own divorce, during a ballet intermission, June 7, 2013:
"All my work, all my activity is associated with public life — with absolute public life. However, there are people who are completely incompatible with this. So, Lyudmila Alexandrovna has been scrutinized for eight years now, even nine, nine years. So, I can say this is a mutual decision."
On former CIA officer Edward Snowden, in an interview with Channel One and Associated Press, September 4, 2013:
"... I sometimes think of him; he's a weird guy. He's a young man in his thirties. I have no idea what's on his mind. What is he going to do in his future life?"
On Moscow Mayor Sergei Sobyanin, at his inauguration, September 12, 2013:
"He is not a Robespierre: He doesn't love to and cannot speak from the podium."
On homosexuality and Silvio Berlusconi's women, at the Valdai International Discussion Club meeting, September 2013:
"Berlusconi is denounced for living with women. If he were a homosexual, they wouldn't say a word to him."
All rights reserved by Rossiyskaya Gazeta.