14th annual summit: Singh, Putin focus on trade, energy and defence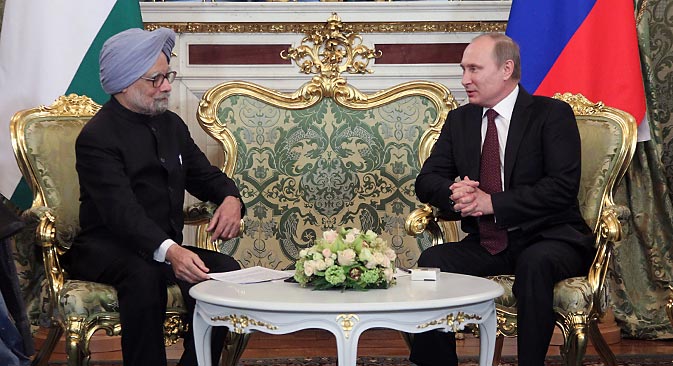 As expected, long-term allies fail to seal agreement on Kudankulam 3 and 4; agree that investment collaboration is an important component of economic cooperation. Russia hints at support for India's APEC membership bid
The 14th annual Indo-Russian summit between visiting Indian Prime Minister and Russian President Vladimir Putin concluded in Moscow on Monday with the sides agreeing to step up economic cooperation, including moving towards an economic partnership agreement with the Customs Union of Russia, Belarus and Kazakhstan.
As expected the countries failed to reach an agreement on Kudankulam Nuclear Power Project's 3rd and 4th units. Russia and India "agreed to expeditiously finalise the General Framework Agreement and the Techno-Commercial Offer for Units- 3 & 4 of the Kudankulam Nuclear Power Plant," they said in a joint statement issued at the end of the talks.
The countries said they discussed priority areas of bilateral cooperation and noted common positions on current international and regional issues. Both sides stressed their continued commitment to promote and strengthen their special and privileged strategic partnership.
"The depth, diversity and dynamism of our cooperation testifies to the fact that ours is truly a Special & Privileged Strategic Partnership," Manmohan Singh said at a joint press conference after the summit.
Trade and investment
The countries expressed satisfaction over the fact that bilateral trade touched a record $11 billion in 2012 and agreed that investment collaboration was an important component of economic cooperation. The sides "noted the successful outcomes of the 2nd session of India-Russia Working Group on Modernization and Industrial Cooperation held in Moscow, where both sides acknowledged their mutual desire to further strengthen bilateral cooperation in areas like civil aviation; chemical and fertilizer industry; mining; and automobiles," according to the statement.
Russia and India also agreed to create a Joint Study Group for studying the possibility of signing a Comprehensive Economic Cooperation Agreement between India and the Customs Union of Belarus, Kazakhstan and Russia.
Energy
The countries agreed to explore the possibilities of direct transportation of hydrocarbons from Russia to India through the land route and agreed to set up a Joint Study Group in this regard. The overseas arm of India's oil and gas bellwether ONGC Videsh Ltd was keen on participating along with Russian companies in exploration for hydrocarbons in the Arctic region, according to the statement.
The sides signed a Memorandum of Understanding on Energy Efficiency between FSBO Russian Energy Agency of the Ministry of Energy of Russia and the Bureau of Energy Efficiency of India.
Defence cooperation
"Close military and technical cooperation between the two countries was a crucial element of the strategic partnership and reflected the high level of trust between the two states," the countries said, although no defence deal was signed between them in this summit.
Earlier in the day, in a bid to allay Russian fears about India diversifying its defence purchase, Manmohan Singh said, "while Russia will remain an indispensable partner for our defence needs, our future defence partnership must be increasingly based on technology transfer, joint ventures and co-development and co-production."
"India was and remains our leading partner in the military and technical domain," Vladimir Putin said at the joint press conference. "Joint projects in this sphere confirm the high level of our technological and industrial cooperation"
According to the statement, the sides welcomed the delivery of the Russian-built frigate Trikand to India in 2013, licensed production of Su-30MKI aircraft and T-90S tanks in India, as well as successful completion of the trials of the aircraft carrier Vikramaditya.
"Among the most important joint projects in the defence sphere is modernisation of Vikramaditya which is almost ready to be passed to the Indian side," Putin said. He agreed that joint production was the future in this sector between the two countries. "The current stage of cooperation in the defence sector is characterised by increasing the amount of joint research and development, and design and experimental works."
Science and Technology
The countries said they welcomed the creation of new institutional mechanisms by the Russian Ministry of Education and Science and the Indian Ministry of Science and Technology. "These mechanisms would support Indo-Russian R&D projects with potential for technology development and generation of new intellectual property. These projects would be in conformity with national priorities of both countries, as identified under 12th Five Year plan of India and the Federal Targeted Programme "Research and Development in Priority Fields of Science and Technology Complex of Russia in 2014-2020," according to the statement.
Looking at a long-standing demand from Russia, the countries agreed to expedite finalization of the intergovernmental agreements on recognition of education documents and academic degrees in medicine and general studies.
International issues
Russia and India said they "re-affirmed their desire to build a more stable, secure and fair system of international relations based on equal partnerships between states, the rule of international law and respect for the purposes and principles of the UN Charter." The two countries said a diplomatic solution was needed for the Iranian nuclear program issue. They also also expressed mutual concerns on global terrorism and the potential volatility in Afghanistan post the withdrawal of the NATO forces. Manmohan Singh said the countries "emphasised our shared interest in a peaceful and stable transition in Afghanistan next year."
While stressing that it supported India's full membership in the Shanghai Cooperation Organization and calling for greater engagement between Russia, India and China, within RIC and the BRICS, there were also hints of Moscow's support for New Delhi's quest to become a member of APEC.
"Russia reaffirmed that India's potential membership in APEC would facilitate further development of a dialogue on addressing key issues of regional and global trade," the statement said. "Russia reiterated its support towards India's accession to APEC upon achievement of consensus within APEC on expansion of its membership."
Prime Minister Singh, who earlier in the day became the first Indian to be awarded an honorary doctorate from the Moscow State Institute of International Relations, lauded Russia's long-term friendship with India. "Russia has stood by India at moments of great international challenge, when our own resources were limited and our friends were few. Following India's independence and consistently since then, India and Russia have built a sound partnership," the prime minister said.
All rights reserved by Rossiyskaya Gazeta.