Many important takeaways from 14th Indo-Russian Summit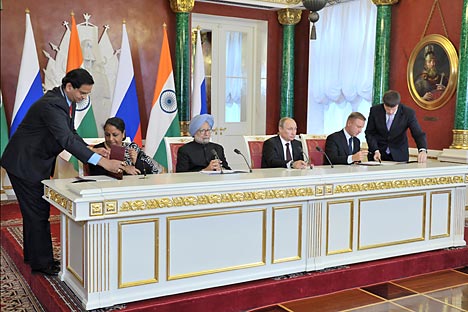 On the face of it, the just-concluded summit resulted in just five agreements, and many would brush aside these agreements as minions. But such an approach will be faulty.
Russia is an integral part of India's foreign policy architecture and occupies prime space in the Indian ethos and Indians' psyche. This is the message that Indian Prime Minister Manmohan Singh has sought to convey to the Russian people through his extensive talks with Russian President Vladimir Putin in Moscow on October 14 which were breathtakingly expansive and covered virtually every aspect of bilateral cooperation.
There are a large number of important takeaways from the summit, many of which may not be visible right now. There are also vastly more important bilateral agreements which are not a done deal yet. And the two principles spent a good deal of their time in making these happen in the near future. Many of these agreements, which Singh and Putin discussed, will come about in a matter of weeks.
Five Agreements and What They Mean
Treaty on Transfer of Sentenced Persons: It will facilitate the process of social rehabilitation of persons sentenced in the other country by providing them the opportunity to serve out their remaining sentences (under certain conditions) in their country of nationality. The agreement, signed by Indian Foreign Secretary Sujatha Singh and Russian Justice Minister Alexander Konovalov, is expected to boost consular cooperation between the two countries.
Memorandum of Understanding between India's Bureau of Energy Efficiency and Russian Energy Agency in the field of energy efficiency: The MoU, signed by Indian ambassador in Russia Ajai Malhotra and Russian Energy Agency's Deputy Director General Kiril Gadzatsev, aims at enhancing cooperation in the field of energy saving and energy efficiency, including through joint implementation of activities and projects by organisations/companies of both the countries. The forms of cooperation envisaged include exchange of best practices in smart grids, energy audits, energy efficient building designs and industrially efficient technologies.
MoU in the field of standardization and conformity assessment between Bureau of Indian Standards (BIS) and Russian Federal Agency on Technical Regulation and Metrology (GOST-R): The objective of this MoU, signed by Ajai Malhotra and GOST-R chief Gregory Alkin, is to facilitate closer technical cooperation in the field of standardization through exchange of information, practices and expertise. It is expected to have beneficial effects for trade and commerce where standards/conformity assessments form an integral basis for transactions.
Programme of Cooperation in the Fields of Science, Technology and Innovation between India's Department of Science & Technology and Russia's Ministry of Education & Science for the period 2014-2017: This imitative is aimed at deepening cooperation in the field of innovation and S&T through implementation of joint programmes and projects/exchanges involving educational, R&D and industrial institutions. The joint projects may also facilitate transfer of technology. The broad areas of cooperation include 'sunrise' sectors such as IT, nano-technology, environmental sciences and alternate energy. This agreement, signed by Sujatha Singh and Russian Education and Science Minister Dmitry Livanov, will also reinforce the existing robust exchanges between the scientific institutions of the two sides.
Programme of Cooperation in the Area of Biotechnology between India's Department of Biotechnology and the Russian Ministry of Education and Science for 2014-2017: This agreement, signed by Ajai Malhotra and Dmitry Livanov, aims to broaden cooperation in the field of biotechnology and encourage industrial R&D and related investment flows. This is intended to be achieved through implementation of joint programmes, projects and exchanges.
The Biggest Concrete Deliverable
The two sides have been pro-actively engaged in deepening their cooperation in the energy sector and it is in this sector that the summit threw up its biggest concrete deliverable. Gas Authority of India Ltd (GAIL) and Gazprom have agreed on a 20-year-long arrangement whereby Russia would be supplying to India 2.5 million tonnes of Liquefied Natural Gas (LNG) every year.
Indian Foreign Secretary Sujatha Singh has gone on record as saying that an additional one million tonnes will be added to this in the near future.
In this context, another area of big ticket agreement between the two sides is building a gas pipeline from Russia to India. The two sides agreed to set up a joint study group to explore the technical feasibility for achieving this objective.
These two agreements, as and when they become operational, will be game-changers. Together these would mean business worth billions of dollars for the Russians on an annual basis and that too for a long term. The former is likely to be operational much sooner.
Defence and sun-rise sectors
The 14th annual summit dealt with the subject of dramatically increasing the bilateral Indo-Russian trade by focusing on some innovative ways on the key sector like defence (the signs of which are likely to emerge in the coming months) and sun-rise sectors like pharmaceuticals, fertilizers, IT, alternate energy, nano-technology and environmental sciences – to name just a few.
The Indian side is understood to have assured the Russians that their prime place in the Indian defence sector will continue to remain, irrespective of India's growing relations with other countries (read the United States, France and Israel). The Indians are likely to do this by throwing open the government-to-government route to the Russian defence companies.
What It Means
In a nutshell, all this boils down to just one thing. The Indo-Russian bilateral trade, currently pegged at a measly $11 billion, is set to grow big and fast, thanks mainly to some institutionalized mechanisms that were put in place in this summit. The results will start coming in months and the two sides are on course to achieve their target of $ 20 billion trade by 2015 months before that.
The writer is a New Delhi based journalist. His Twitter handle is @Kishkindha.
All rights reserved by Rossiyskaya Gazeta.