Thousands join in nationalist marches across Russia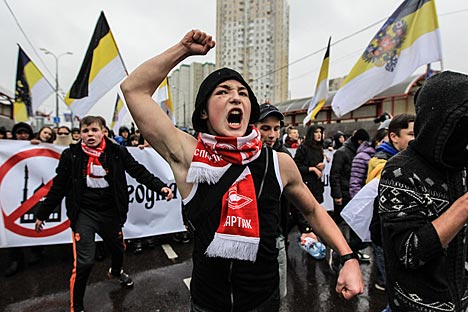 Demonstrators with Russian imperial flags and banners "Today a mosque, tomorrow jihad" marched through the Moscow outskirts. Source: Sergey Savostianov / RG
Annual anti-immigration rallies drew thousands of protesters to Moscow, St Petersburg, Kazan, Irkutsk and other large Russian cities on Unity Day. Dozens were arrested across the country on various charges, but only sparse incidents of violence.
Thousands of nationalists took to the streets of Russia's major cities, including Moscow and St Petersburg, on Monday, chanting "Russians Unite" and "Russia for Russians, Moscow for Muscovites," as part of nationwide annual marches that in past years have sparked violent clashes between protesters and police.
Images from the Moscow neighborhood of Lyublino showed demonstrators carrying Russian imperial flags and banners with slogans such as "Today a mosque, tomorrow jihad" and "Say yes to visas for migrants." One group displayed a banner reading "Young People Against Tolerance," and accused migrants of pushing up the crime rate and taking jobs.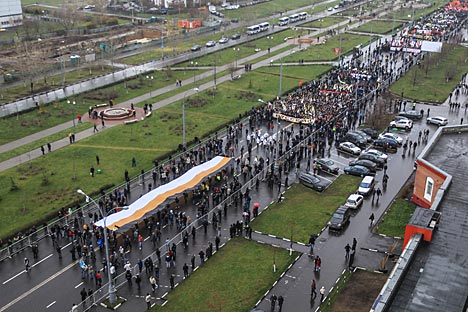 Russian March in the Moscow district of Lyublino gathered about 8,000 people. Source: Sergey Savostianov / RG
Marchers ranged in age from teenagers to pensioners, some of whom were military retirees. Their chants "Russians Unite" and "Russia for Russians, Moscow for Muscovites" echoed hostility toward migrants from the former Soviet Central Asian republics and non-Slavs from the largely Muslim Caucasus region.
Although there were no reports of violence during this year's marches in Moscow, about 30 people were detained for using Nazi slogans and symbols, and other minor public order offences, according to Moscow police.
In St. Petersburg, 40 youth attacked several people of non-Slavic appearance, according to reports. The Interfax news agency also reported that police detained 12 participants in a rally in the Siberian city of Krasnoyarsk.
In the city of Volgograd 60 people have reportedly been arrested after they tried to continue the rally after the allowed time. More than 30 people have been arrested in St. Petersburg, where roughly 2,000 attended the event.
The anti-immigrant marches began in 2005, after President Vladimir Putin replaced a former Soviet public holiday commemorating Russia's 1917 revolution with the new National Unity Day, which commemorates the liberation of Moscow from Polish invaders in 1612.
The holiday, however, soon become synonymous with ultra-nationalist rallies called the Russian Marches, after nationalist youth groups organized protests in cities that featured anti-immigrant slogans and sometimes even Nazi emblems.
Russia has seen a rapid increase of migrants from across the former Soviet Union, who typically work in low-wage trade or menial jobs that most Muscovites would turn their noses up at: street-sweeping, garbage collection, cleaning, road works and construction.
Russia is visa-free for all Central Asian republics, including Azerbaijan, Armenia, Belarus, Kazakhstan, Kyrgyzstan, Moldova, Tajikistan, Ukraine and Uzbekistan. Many protesters called for introduction of a visa regime for citizens of the CIS travelling to Russia. Some marchers demanded the country to reduce funding for Russia's republics in the North Caucasus, such as Chechnya and Dagestan.
While some bystanders in Moscow were displeased by the marches, others said they supported them because of the number of migrants they had seen in their neighborhoods. The increase in migrants has led to violent hate-crimes in recent years.
Sova Centre, a Moscow-based NGO which monitors racism, estimates that 140 people have been injured and 19 murdered in hate-related violence so far this year.
Some Muscovites meanwhile celebrated Unity Day in an "Imperial March", organized to mark the 400th anniversary of the Romanov dynasty.Putin marked the holiday by attending an exhibit honoring the Romanov dynasty together with Russian Orthodox Church Patriarch Kirill. In St Petersburg some activists organized rallies against hate and fascism two days prior to the Russian March.
This year's marches were roughly the same size as in previous years, but they brought with them a growing campaign on social media. The Russia's leading social network Vkontakte had dozens of online communities promoting the Russian March, and the topic was trending on Russian Twitter on Monday morning.
Monday's rally came three weeks after a riot erupted in the Moscow district of Biryulovo after the death of an ethnic Russian man, which locals blamed on a migrant. Rioters targeted a wholesale vegetable warehouse where they believed the alleged murderer was working.
Police later rounded up over 1,000 migrants working at the warehouse. Later, a man from Uzbekistan was found dead in the vicinity with several stab wounds.
All rights reserved by Rossiyskaya Gazeta.