Russia makes foreign policy gains but looks less successful at home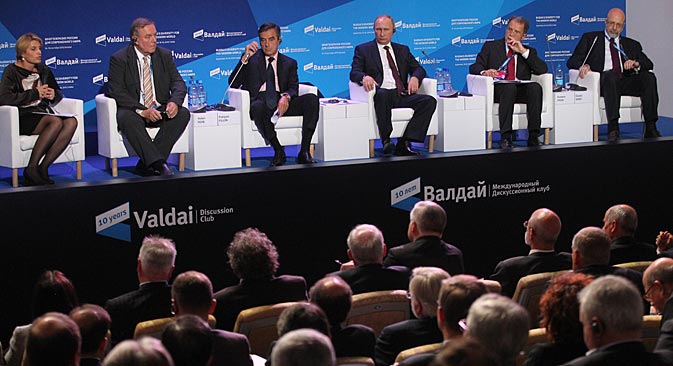 Vladimir Putin at a Valdai meeting. Source: Konstantin Zavrazhin/RG
Valdai experts have given a positive assessment of Russia's international role and highlighted its considerable contribution to efforts to settle geopolitical conflicts, but say little has been achieved in the domestic front.
This year Russia has scored some important points on the international arena but hardly achieved anything in developing its domestic institutions. This is the general conclusion of a poll about the key trends of Russia's development conducted among Russian and foreign experts from 26 countries participating in the Valdai International Discussion Club.
The experts (three fourths of them, foreigners) have given positive assessment of Russia's international role and highlighted its considerable contribution to efforts to settle geopolitical conflicts, first of all, the Syrian crisis, as well as consistency in safeguarding its national interests.
The director-general of Russia's International Affairs Council, President of the New Eurasia Foundation Andrey Kortunov, commented on the results in these words: "Amid the current deficit of effective government, even in the US and the European Union countries, Russia looks more successful. This is seen not only in Russia's diplomatic initiative in settling the Syrian crisis, but also in this year's G20 summit in St. Petersburg, in the growing strength of the BRICS group of countries (Brazil, Russia, India, China, South Africa), and in diplomatic progress in relations with China and South Korea."
He recalled that Forbes magazine placed Russian President Vladimir Putin on the top of its rating list of the most influential politicians in the world, which was another sign of Russia's success internationally.
Oddly enough, while admitting Russia's successful foreign policy, 58.6 percent of respondents believe Russia's image abroad lags considerably behind.
"When a country's image is in question, it is the quality of state governance, corruption rate and the level of bureaucracy that come to the foreground. Here Russia has many image-related problems, especially those in relations with international businesses," Kortunov told Itar-Tass.
As a positive trend, the polled experts noted the effective use of so-called 'soft power'. They were positive about Russia's cultural and social diplomacy, primarily practiced via the Federal Agency Rossotrudnichestvo, established to promote Russia's positive image abroad. Among soft power factors is the hosting the Winter Olympics in 2014 and the FIFA World Cup in 2018.
The respondents also noted some alarming trends in Russia's domestic policy, in particular, the decline in the efficiency of most government institutions - 50.6 percent believe the government's efficiency has dropped, 39 percent say the same about the State Duma, and 32 percent, about the Russian court system.
"I do not see any serious deterioration or improvement in the performance of Russia's governing institutions - they remain weak. The State Duma and the government do not enjoy much influence in the country and face constant criticism, so one should not be surprised that foreign experts repeat these estimates. Power in Russia is traditionally personalized and it is a long-standing problem," Kortunov, a member of the non-governmental council on foreign and defence policy, said.
As for ideology, the Valdai club's experts noted mixed trends: 70 percent of them said patriotism was on the rise in Russia and as many believes nationalism was soaring, while the rate of tolerance in Russian society was dwindling.
Kortunov sees no contradiction here: "Those in power are obviously trying to foster patriotism by investing heavily in projects, films and TV programmes. But Russian people are concerned about increasing threats amid migration problems, escalating ethnic crime rate, and competitive WTO membership-related pressures on the domestic market. Therefore, parallel growth of both patriotism and nationalism are two different but inseparable processes.
First published by Itar-Tass.
All rights reserved by Rossiyskaya Gazeta.