Russia in need of more flexible demographic policies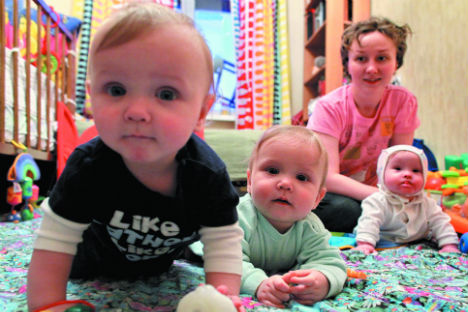 The number of third and further children in Russian families had jumped more than 10 percent over the year. Source: PhotoXPress
The government is planning to continue supporting large families. Prime Minister Dmitry Medvedev pledged to submit to parliament a bill for providing them with plots of land free of charge.
The demographic situation in Russia is improving, albeit slowly, Prime Minister Dmitry Medvedev said to round up a government meeting this week on the implementation of the May 2012 presidential decrees. On May 7, 2012, having just assumed office, Vladimir Putin signed a number of decrees setting guidelines for future economic, demographic and social policies, healthcare, education and science and for providing of affordable housing. One of the decrees concerned the demographic policy. While approving of the measures taken to increase birth rates, experts have noted some alarming demographic trends.
Medvedev evaluated the demographic situation in Russia as positive by and large: the number of third and further children in Russian families had jumped more than 10 percent over the year, which is "a good figure", Medvedev said.
The government is planning to continue supporting large families. Medvedev pledged to submit to parliament a bill for providing them with plots of land free of charge.
The report presented by the healthcare ministry and labor ministry says birth rates in January-October 2013 were 0.3 percent above those in the same period last year, while the mortality rate dropped 0.7 percent. St. Petersburg showed the highest birth rate of 3.6 percent. The North Caucasus republics (Karachay-Cherkessia and North Ossetia) and the Novosibirsk Region were also among the best (over 3 percent).
October 2013 saw natural population growth, for a fifth time this year, by 11,700. Birth rate growth was recorded in 38 regions.
Among mortality growth factors the report cites respiratory diseases (a 5.4 percent increase), including flu and ARD (66.7 percent growth). Meanwhile, mortality from TB and murders showed a considerable decline — 8.9 percent and 8.5 percent respectively.
The number of children who died at an age under twelve months dropped in 44 regions, the best results (20 percent and more) were registered in a number of regions, including Chechnya. Infant mortality is the lowest in St. Petersburg (4.7 per thousand born babies).
Meanwhile, independent experts are less optimistic than officials in estimating natural increase.
"There is a natural increase, no denying that. But, first, this increase is temporary. Second, it is a side effect of migration to a considerable extent. Third, 11,700 is too trifling increase for a huge territory that Russia occupies," the director of institute of Demography at the Higher School of Economics, Anatoly Vishnevsky, told Itar-Tass.
The expert explained this temporary increase with a decline in the number of women and ageing.
Vishnevsky cited the following statistics: "Russia occupies an area of 17 million square metres; three quarters of this territory are vacant. Most of the population lives on 4 percent of the total area, around Moscow and in Central Russia."
The uneven distribution of the population about the territory of Russia requires a more flexible migration policy, believes the head of the Labor and Social Relations Academy, Yevgeny Kozhokin. The government's so called 'parent capital', paid out for a second child and the following children, should be available not all over Russia but only in the regions that need population the most — Siberia, the Urals and Far East.
"The country needs regional programs to boost birth rates," the expert believes.
First published by Itar-Tass.
All rights reserved by Rossiyskaya Gazeta.