Vladimir Putin speaks his mind in long press conference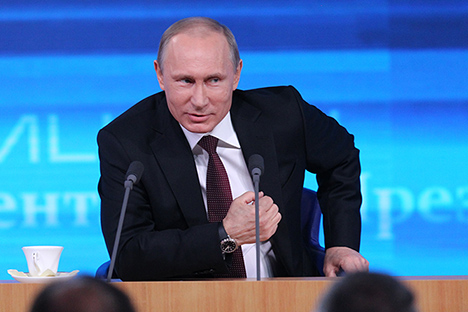 During the meeting, Russian President took about 50 questions. More than 1,300 journalists were in attendance. Source: Konstantín Zavrazhin / RG
The Russian President supported Ukraine, praised Snowden and surprisingly defended the U.S. intelligence service.
On December 19, Russian President Vladimir Putin answered a whole range of question in a press conference that lasted 4 hours and 5 minutes. He was able to speak on almost the entire spectrum of the most pressing, the most important and most urgent major Russian and international issues.
Ukraine
Putin said Russia made economic concessions to Ukraine due to the difficult economic situation in this country and a desire to help a long-time partner. As for the anti-Russian sentiments of protesters in the center of Kiev, the Russian president said he is sure that people just have not read the draft of the Association Agreement between Ukraine and the EU.
"Take a look at what it says: open markets, there is no money, adopt European trade rules and technical regulations. What does this mean? Industry shall be closed, but agriculture will not develop," Putin asserted. "This is a definite shift to becoming the agricultural appendage of the Eurozone. But if that's someone's choice, fine, let it be their choice."
He denied that Russia was trying to keep its smaller neighbour out of the European Union. "We have nothing to do with this as it is the choice of the Ukrainian people and the legitimate authorities: to join the union or not to join, to sign any documents or not to sign."
The Russian government
The president said that he considers the work of the Russian government satisfactory and does not plan any significant rearrangements. "True professionals should be working in the government and we need to attract them from the market. The worst is constantly changing personnel. The current government has not yet reached its full potential," he said.
Edward Snowden
The Head of State declared that he has not met with the former U.S. intelligence officer Edward Snowden. "I do not know him personally and have never met him. I have many current affairs, and he has his own ideas about life, what to do and how to live" Putin said. "I am not disinterested in him. I think that thanks to Mr. Snowden many ideas in the minds of millions of people have somehow changed, including major contemporary political figures."
Also, Putin is curious how an ex-employee of the U.S. NSA decided to publish secret information on the work of U.S. intelligence. "Well, he's quite a young man. What does he have? He hasn't got anything. Where is he going to live? He has made this choice for himself. Noble, but it's difficult," Putin said.
As for potential cooperation between Snowden and the Russian intelligence, Putin claims that they do not currently work nor have ever worked with Snowden. "I have already said and will repeat almost in professional jargon: in operational terms, we do not work with him and have never worked and do not pester him with all sorts of questions about what was happening and how it was done in the Russian department of the service where he had worked.
"Everything that is being thrown around is what is left by him all over the world. We do not know where or what he's got out there." He also reminded listeners that the Russian authorities gave Snowden the opportunity to live in Russia, provided that he will not engage in anti-American activities.
On spying
In answer to the question posed by the satellite channel RTVI about Russia's relations with the United States and Germany after the Snowden scandal, President Putin said he believes that the U.S. intelligence is engaged in wiretapping worldwide, with combating terrorism as the primarily focus.
"I'm not going to justify anyone, God forbid. But, to be fair, it is being done in an effort to fight terrorism, these are anti-terrorist activities."
Putin however asserted, "There should be a set of more or less clear rules and specific agreements, including those regarding moral character."
The story with Greenpeace
President Putin said that he has a positive attitude toward all those who protect nature, but has a negative attitude toward those who use it as a source of PR and personal enrichment.
But the crew members of the Arctic Sunrise vessel, accused in the attack on the Prirazlomnaja platform, will in fact fall under amnesty, even though the document was not specifically formulated to release them from liability. "I think that what happened should be a lesson. Together, I hope with along with the Greenpeace organization, we should engage in joint positive work," Putin said.
On Iran and Syria
Vladimir Putin declared the decision on the Iranian nuclear issue and the chemical disarmament of Syria, an achievement not only of Russia, but also of the country's partners.
"This would be impossible to achieve without the collaboration of Europe, the U.S. and China. We do not jerk around; we have a concrete approach to deal with these issues, based on the principles of international law. And we can certainly be proud of it."
All rights reserved by Rossiyskaya Gazeta.