P.S. Raghavan takes charge of Indian embassy in Moscow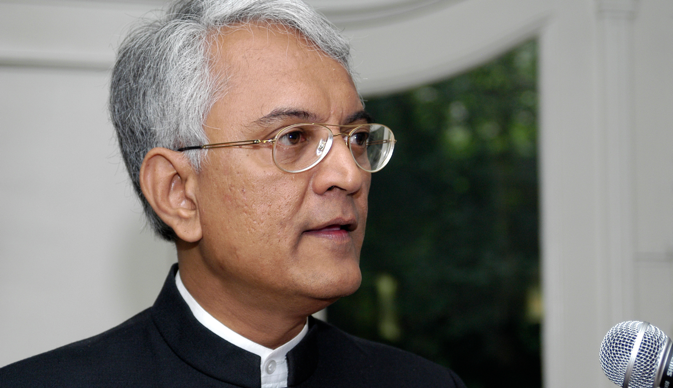 India's new ambassador to Russia, P.S. Raghavan is a seasoned diplomat. Source: Embassy of India in Moscow
As the new Indian ambassador to Russia gets ready to present his credentials to Russian President Vladimir Putin, RIR gives you the lowdown on his chequered career.
P.S. Raghavan, a career diplomat, took charge this week as India's ambassador to Russia, replacing Ajai Malhotra, who retired at the end of 2013. He follows an illustrious line of ambassadors to Moscow that began when Vijaya Lakshmi Pandit, Jawaharlal Nehru's sister was appointed India's envoy to the USSR in 1947. Other prominent leaders to serve in the position include Sarvepalli Radhakrishnan, a noted scholar and the second president of India, T. N. Kaul and I. K. Gujral, who later became the prime minister of India.
Born in 1955, P. S. Raghavan graduated with a Bachelor of Science Honours degree from the prestigious St Stephen's College of Delhi University in 1975 and a Bachelor of Engineering degree in Electronics & Communications Engineering from the Indian Institute of Science, Bangalore in 1978. He joined the Indian Foreign Service in 1979.
Between 1979 and 1994, he held a many diplomatic positions, including a stint in Moscow, where he was the Second Secretary at the Indian Embassy in 1981-82. He also served in Warsaw and London and in various tenures in India's Ministry of External Affairs (MEA). In 1994, he was appointed Consul General of India in Ho Chi Minh City and in 1997, Deputy High Commissioner of India to South Africa in Pretoria.
From 2000 to 2004, Raghavan was Joint Secretary in the Prime Minister's Office in New Delhi, dealing with Foreign Affairs, Defence, National Security matters, Space and Atomic Energy. He was appointed Ambassador of India to the Czech Republic in 2004 and held that position until 2007, before serving as Ambassador of India to Ireland from 2007 to 2011.
Since early 2012, he served as Special Secretary at the MEA headquarters in New Delhi and is in-charge of Administration and Development partnership Administration, a special division created to effectively handle India's multi-million dollar aid projects through the stages of concept, launch, execution and completion.
Ambassador Raghavan's interests include reading and a variety of sports, which he follows with keen interest, participating in some of them. His educational background has inspired him to consistently seek to promote linkages between the premier science and technology research institutions in India and their counterparts in other countries of the world.
All rights reserved by Rossiyskaya Gazeta.