Putin says Sochi visitors will see a new Russia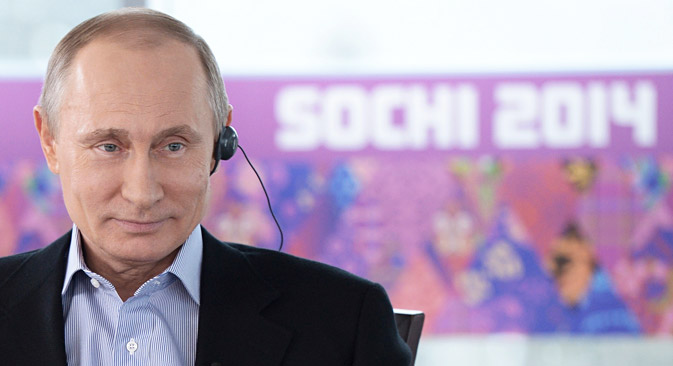 Putin comments on LGBT, corruption and security in Sochi. Source: Reuters.
Russia will welcome all participants and guests of the Sochi Olympics irrespective of their sexuality, President Vladimir Putin has said to domestic and foreign media
President Vladimir Putin is promising that Sochi's Olympic Games will be a success and the world will see what a great country Russia is. RBTH looks at highlights of the Russian leader's interview to domestic and foreign media.
On gays at the Olympics: Putin stressed that in Russia, unlike in 70 countries of the world, homosexuality is not prosecuted. "So gay people coming to the Olympics as athletes or guests should have no concerns or fears," he said.
On security at the 2014 Olympics: Putin said Russia is well aware of the threat to security at the Sochi Olympics and knows how to tackle it. "We understand full well what it is — what this threat is, and how to reduce it; how to tackle it," he said.
"I hope that our law enforcement agencies will cope with this task with honor and dignity, as they did during other major events, be it sports or political events. Because if we allow ourselves to display weakness, to display fear, or to show our fear, then we shall be helping the terrorists to achieve their aims. Of course, our task, the task of the organizers, is to ensure the security of the participants of the Olympics and of the guests to this sporting festival, and we will do everything to ensure this."
On preparations for the 2014 Olympics: "So far we have not seen any big, large-scale instances of corruption linked to the implementation of the Olympics project. There are attempts by those who carry out the work (contractors) to drive the price up. But this, I repeat, happens in any country of the world. If there are objective data [about corruption], please do supply them to us as soon as possible. So far, there are none, nobody is reporting anything."
On significance of the Olympics: "I would very much like the participants, fans, journalists and all those who will watch the Olympics on TV and follow them through the media to see a new Russia, see its face and its possibilities, and take a fresh and unbiased look at it," Putin said.
On the Russian Orthodox Church's position on homosexuality: Putin said he sees nothing unusual in that the Russian Orthodox Church has a tough position on homosexuality but stressed that church in Russia is separated from the state. He went on to add that practically all traditional religions of the world agreed on this matter. "Is the position of the Holy See different from that of the Russian Orthodox Church? And does Islam treat people of non-traditional sexual orientation in a different manner? It probably does, in that its position is much tougher," he said.
On ratings: As for various ratings, according to some of which Putin is rated as more influential than even the Pope, the Russian president said that they should not be taken seriously: "I think one should simply ignore all these ratings. Besides, no secular figure can outshine the Pope. Such a comparison is completely irrelevant." Putin went on to say that one should never be guided by any ratings, but rather should feel a professional in whatever they do and should strive to become better at it.
On visa-free travel with the European Union: Putin said that Russian diplomacy would like to finally reach an agreement with colleagues in the EU on visa-free travel. "I have said it more than once that the European Union has visa-free travel with many Latin American countries, where the crime situation is not better, and in many cases is worse, than in the Russian Federation. And where is Latin America, and where is Europe? Whereas if we look at Russia and Europe, they are very close, I think, aren't they?" he said.
On plans for the future: "Maybe I'll play ice hockey. You may have heard that we have recently set up our own Russian NHL. The abbreviations stands for not the National Hockey League but for the Night Hockey League, where non-professional players aged 40 and older can play. I was so glad to see that this initiative took off all over the country. Teams are now being formed in every region, they hold competitions, and the final is held in Moscow or in Sochi, like it was last year. It was attended by more than 100 teams from all parts of Russia. Two and a half years ago I couldn't skate at all. And now, as you may have seen, I'm trying to play sometimes. That's what I enjoy. If and when I retire, I will try to do things that I enjoy."
All rights reserved by Rossiyskaya Gazeta.