Putin pays attention to minute details - Peskov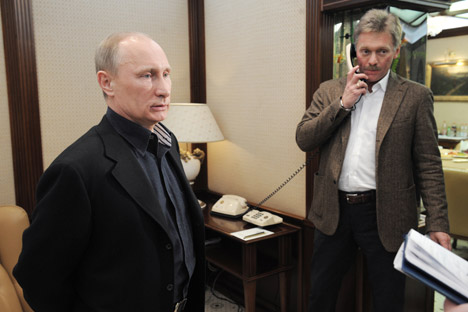 Dmitry Peskov: "Putin is a completely established person, a man of integrity". Source: Alexei Druzhinin / RIA Novosti
Russian presidential press secretary Dmitry Peskov spoke to the Russian media about Moscow's stance on the events in Ukraine, the recipe for victory in the Sochi Olympics and how it feels to work under the president.
Dmitry Peskov has been in charge of handling Vladimir Putin's press and media activities since 2000. Always approachable, the Russian media and the foreign press corps in Moscow have managed to establish a good rapport with the man who trained to be a diplomat and even served in the Russian embassy in Turkey. He spoke in detail to the media this week about the events in Ukraine, the up-coming Winter Olympics and how demanding the president can be.
On sincerity
"I never have to tell lies, this is something completely unacceptable. I was born to a family of diplomats, I am a diplomat myself. When I was posted to the Soviet embassy in Ankara as a young diplomatic officer, I was lucky to have a very good mentor, Ambassador Albert Chernyshov. He taught me the main principle of our work: no person on Earth can make a diplomat tell a lie. The opposite is also true: no-one can make a diplomat tell the whole truth."
Dmitry Peskov was born to the family of a career diplomat in Moscow on October 17, 1967. After graduating from Moscow State University's Institute of Asian and African Studies in 1989, with a degree in oriental history, he went on to work in the Foreign Ministry and at the Soviet embassy in Turkey.
On Ukraine
"It is absolutely unacceptable for us to interfere with the internal affairs [of a foreign country]. We are convinced that the people in Kiev know what to do, and that they will find the best solutions in order to normalize the situation and put it back on a legitimate and peaceful track.
Of course we become saddened and outraged when external interference with the processes going on in Kiev becomes obvious. Any solutions taken in Ukraine are sovereign, and that country's government takes them in the framework of democratic processes. For us, intervening or influencing [the situation] with the use of any measures of political management would be unacceptable."
On the Sochi Olympics
"Some countries behave in a totally impudent and unceremonious way by attempting to discredit the Sochi Olympics politically. They throw plenty of dirt every day, and unfortunately, our media quotes them. The strong, the successful, the rich, and the healthy are not always loved. But the Olympic Games, the sports, are sacred, they have no relation to politics. The Olympic host country always wins if it invests its soul. In our case, I may say that we have already won. For the first time in decades a whole new city has been built in our country.
Peskov supervises the Kremlin's public relations directorate, which coordinates the information activity of government ministries and departments in Russia and abroad. The directorate is also tasked with improving Russia's attractiveness for investments.
This is why our country has already won. All talk of this having been achieved with enormous sums of money, of it having not been worth the money spent, stems from poor understanding of the grandiosity of what has already been done. Sochi will receive a truly marvellous sports complex comprising of the mountainous and coastal clusters. It will receive – has already received – a unique infrastructure, which will nevertheless work for the benefit of the entire country by providing opportunities for amateurs, for professional athletes, and for the promotion of sports among children and youth, because we already have plans for the future in place."
On Putin
"Putin is a completely established person, a man of integrity. He keeps growing more sophisticated as an administrator. He is so much in the loop in terms of expert knowledge, down to the minute detail, that his subordinates have a very hard time working with him if they are not prepared to discuss certain issues on a comparable level of expertise."
On self
"You know, I keep kicking myself for skipping university history classes, for example. Putin is a keen appreciator of history. When he starts delving on certain historical episodes I sometimes blush at my ignorance.
He once asked me about some dates related to the history of the Old Believers in Russia. I suddenly realized I could not give him a coherent reply."
All rights reserved by Rossiyskaya Gazeta.