Each year in honor of International Women's Day on March 8, the Ekho Moskvy radio station, Ogonyok magazine and the Interfax news agency put together a list of the 100 most influential women in Russia. RBTH gives you the top 10.
1. Valentina Matviyenko, 64, Chairperson of the Federation Council
The most influential woman in Russian politics governed the second largest city in Russia, St. Petersburg, for eight years (2003-2011). Since 2011, she has been the speaker of Russia's upper house of parliament, the Federation Council.
Matviyenko began her career as a Komsomol and Communist party functionary and also served as a diplomat in Malta and Greece.
2. Elvira Nabiullina, 50, Head of the Russian Central Bank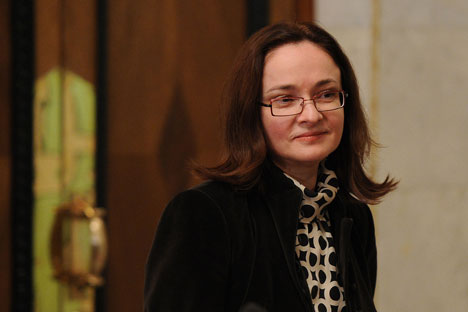 Elvira Nabiullina is not only be the first woman in Russian history to head the Central Bank, but also the first person from the Ministry of Economic Development to take up the position. Source: RIA Novosti
Before her appointment as the first female head of Russia's Central Bank in June 2013, Nabiullina served as an assistant to the president (2012-2013) and Minister of Economic Development (2007-2012).
A specialist in macroeconomics, Nabiullina is known for generating new ideas for economic programs.
3. Tatiana Golikova, 48, Chairperson of the Accounts Chamber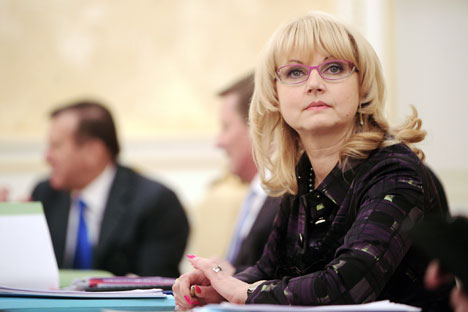 Tatiana Golikova. Source: ITAR-TASS

Head of the Accounts Chamber since September 2013, Golikova was previously an assistant to the president for socio-economic cooperation with the CIS countries, Abkhazia, and South Ossetia (2012-2013).
She also served as Russia's Minister of Health and Social Development (2007-2012) and Deputy Finance Minister (2002-2004).
4. Olga Golodets, 51, Deputy Prime Minister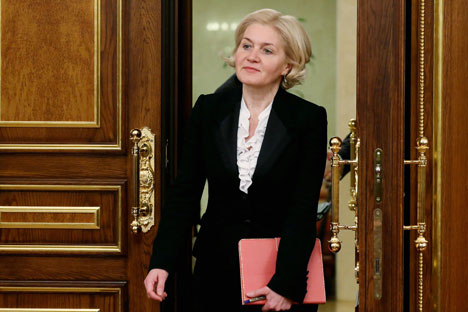 Olga Golodets. Source: ITAR-TASS

Golodets has been a member of the Russian government since May 2012; she is responsible for social issues. She previously served as Deputy Mayor of Moscow for Social Affairs (2011-2012), and Deputy Mayor of Moscow for Health and Education (2010-2011).
5. Larissa Brycheva, 56, head of the State Legal Department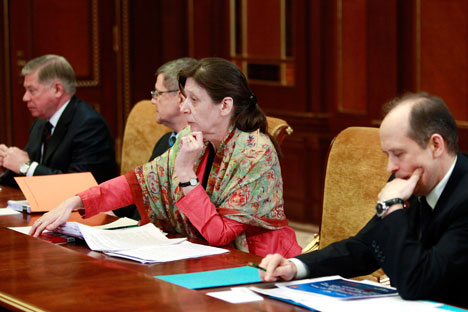 Larissa Brycheva. Source: RIA Novosti
Brycheva was an assistant to both Dmitry Medvedev during his presidency and to Vladimir Putin during his second term in office (2004-2008).
From 1999-2004, she headed the Main State Legal Department of the presidential administration; she had worked there since 1993.
Brycheva is also a member of the Presidential Council for the Implementation of Priority National Projects.
6. Alla Pugacheva, 64, singer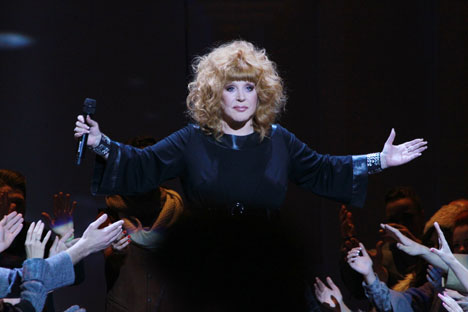 Alla Pugacheva is one of the favourite Russian singer. Source: RIA Novosti
Alla Pugacheva may be the most famous Russian pop singer.
She is also a composer and songwriter, director, producer, actress and television host.
She was named a People's Artist of the Soviet Union in 1991 and Laureate of the State Prize of Russia in 1995.
Her repertoire includes more than 500 songs in Russian, English, German, French, Hebrew, Finnish, and Ukrainian, and her discography includes more than 100 solo records, CDs and DVDs.
She has sold more than 250 million CDs. She also has her own eponymous brand of shoes.
7. Natalia Timakova, 38, Dmitry Medvedev's press secretary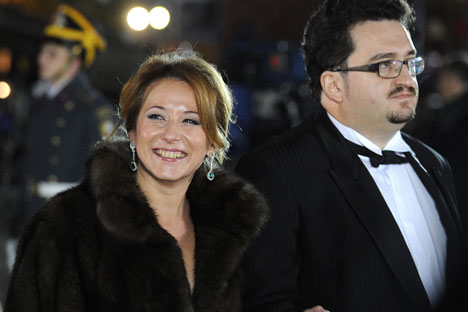 Natalia Timakova works with Dmitry Medvedev since 2008. Source: ITAR-TASS
Timakova has served as press secretary for Prime Minister Dmitry Medvedev since May 22, 2012 and is also his deputy chief of staff. She was also Medvedev's press secretary during his presidency (2008-2012).
Before joining the government press service in 1999, Timakova was a political commentator for the Russian news agency Interfax and a journalist for the Kommersant and Moskovsky Komsomolets newspapers.
8. Alina Kabayeva, 30, Russian State Duma deputy, Olympic champion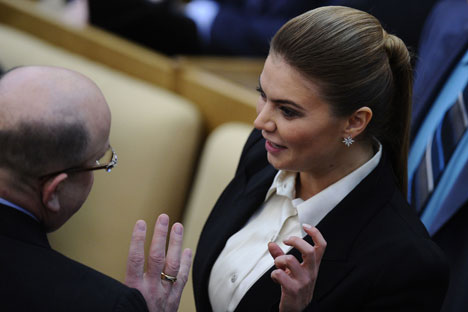 Former sportswoman Alina Kabayeva now is the State Duma deputy. Source: ITAR-TASS

Kabayeva won gold at the 2004 Summer Olympic Games in Athens in rhythmic gymnastics. She was also the bronze medalist at the 2000 Olympics in Sydney.
Additionally, she is a two-time world champion in rhythmic gymnastics (1999 and 2003), a five-time European champion (1998-2000, 2002, 2004) and a six-time Russian champion (1999-2000, 2004, 2006).
After retiring from gymnastics, she was elected to the State Duma as a member of the United Russia party.
9. Olga Dergunova, 48, Deputy Economic Development Minister, Head of the Federal Property Agency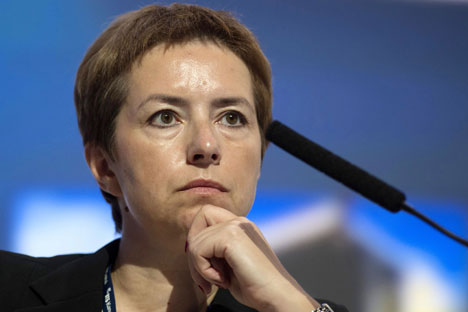 Olga Dergunova was named the most successful women in EU in 2004. Source: RIA Novosti

Since June 2012, Dergunova has been the Deputy Minister of Economic Development and the Head of the Federal Agency for State Property Management. Earlier, she was the president of Microsoft Rus (2004-2007).
In 2002, The Wall Street Journal named Dergunova one of the 25 most successful and influential businesswomen in Europe, and in 2004 she was named one of the 10 most successful and influential business women in Europe.
10. Olga Yegorova, 58, Chairperson of Moscow Municipal Court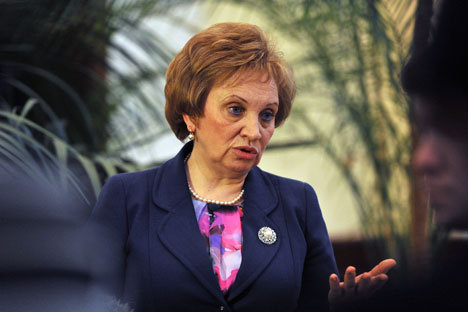 Olga Yegorova. Source: RIA Novosti
Yegorova has been the chairperson of Moscow Municipal Court since 2000. She began her career as a judge on the court and also served as deputy chairperson for civil cases before becoming the chairperson.
This article was combined from reporting by Kommersant and Lenta.ru.
All rights reserved by Rossiyskaya Gazeta.