Indo-Russian ties under a new government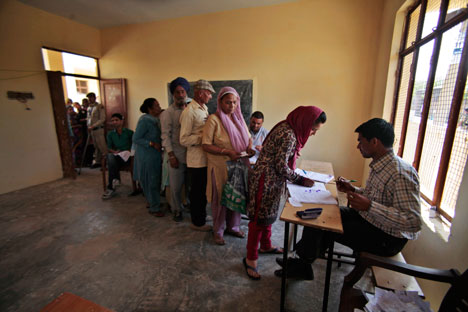 The results of the Indian election won't have an impact on the country's ties with Russia. Source: AP
Policy analysts don't really expect a radical departure from the UPA's foreign policy of the last decade, no matter who comes to power after the elections.
After India conducts one of the most crucial general elections in its independent history, among the new political dispensation's foremost priorities will be to craft an innovative foreign policy that helps revive Asia's third largest economy, as well as gives it geopolitical leverage in a region fraught with asymmetries and political tensions.
In an external environment marked by uncertainty - a festering border issue with Pakistan, an increasingly aggressive China, and a politically diminished US - India's outreach in an increasingly multi-polar world needs to focus on strengthening old ties while forging new ones.
At such a juncture, it becomes critical for New Delhi to nurture its strategic relationship with Moscow, one that outgoing Indian prime minister Manmohan Singh described as a strong pillar of Indian foreign policy. Indeed Indo-Russian ties go back a long way. Both countries share convergences on a gamut of global issues while maintaining deep cooperation on political, military and economic dimensions.
Indian companies have made multi-billion dollar investments in Russian energy firms and energy projects apart from working on a southern route from Russia to the Arabian Sea that will bolster bilateral trade in the Indian Ocean region.
Russia equips India's military with more than 70 percent of its weapons systems and armaments and is currently developing cruise missile systems, strike fighters and transport aircraft for the latter.
There is convergence on global economic matters too. Russia and India support the creation of an alternate financial architecture within the BRICS multilateral grouping to counter West-dominated financial structures. The idea is to diminish the West's stranglehold on emerging economies through imposition of sanctions. Russian President Vladimir Putin has stated that strengthening the BRICS multilateral grouping of emerging economies is one of Russia's "foreign policy priorities."
Next year marks the 40th year of Russian-India collaboration in space, says Dr. D. N. Pandey, a geo-strategist. "The two nations have deepened their engagement further is this area by signing an agreement to intensify cooperation between research institutions, and accelerate the pace of joint research projects involving scientists and technologists."
Contentious global issues have seen Russia and India join hands, especially in restoring strife-torn Afghanistan's territorial integrity. Dealing with nuclear-armed Iran has also seen both Russia and India support a process of peaceful dialogue that respects regional security and safety.
Be that as it may, India's unwillingness to condemn Crimea's reunification with Russia has been dubbed in some quarters as "kowtowing" to Moscow. This support for Russia's "legitimate interests" has especially caused consternation in Washington which is keen to have India as a bulwark against China's unchecked rise in the region. As the largest democracy in the world, Asia's third largest economy and an increasingly important military power, it dovetails with the Pentagon's strategy to have India as an anchor in the region to maintain equilibrium.
However, by not toeing the US's line, and supporting Putin instead, India has sent out a strong message that it will not be dictated to, rather its friendship will have to be earned by empathy and reciprocity. In this context, Russia's unequivocal support for India at global forums, especially on the sensitive issue of Pakistan-occupied Kashmir, resonates well with New Delhi.
What is going to be the likely trajectory of Indo-Russian relations if power shifts from the ruling UPA coalition to the Bharatiya Janata Party, and its candidate Narendra Modi (a frontrunner to win polls), becomes PM? Policy analysts say that they don't really expect a radical departure from the UPA's foreign policy of the last decade.
"Modi's emphasis on economics and trade policy aligns well with the UPA's own mantra of 'economic diplomacy', and this could provide the tailwinds for Indo-Russian bilateral ties if he becomes PM," explains a senior official of the Ministry of External Affairs.
No matter who comes to power, it seems, Indo-Russian ties are likely to remain robust.
Neeta Lal is a New Delhi-based journalist.
All rights reserved by Rossiyskaya Gazeta.