Increased India-Russia understanding on cards if Modi becomes PM - senior BJP leader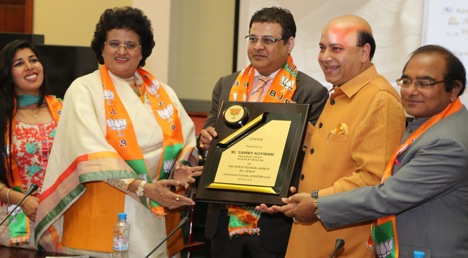 OFBJP Russia launch program (L-R) Lubna Asif, Arti Mehra, Sammy. Source: Vijay Jolly
In an interview with RIR in Moscow, Vijay Jolly says a BJP-led India government would look to strengthen bilateral ties with Russia at all levels.
Vijay Jolly, All India In-charge & Convenor of Foreign Cell of the Bharatiya Janata Party, was in Moscow for the meeting of the Overseas Friends of BJP (OFBJP) at the Russian Chamber of Commerce and Industry organised by Sammy Kotwani, President of OFBJP Russia chapter. He talks to RIR about the scope for further development of India-Russia ties if Narendra Modi becomes the prime minister of India.
How do you see the current state of the Indo-Russian relationship?
Russia is a dependable ally of India. Indo-Russian ties are more than 50 years old. Under Narendra Modi's leadership in India and under Vladimir Putin's leadership in Russia, more bilateral agreements should be signed, more operations in the field of education, health, trade, defence, IT, and more opportunities for the younger generation through scholarships and through other means shall strengthen Indo-Russian ties at all the levels.
In what areas is there still room for development of ties for India and Russia?
You see there is a strong need for India and Russia to work together at the political level, diplomatic level, and also at the international foras. And India's stance on the recent crisis in Ukraine vis-à-vis Russia has been appreciated not only in India or in Russia but by our close allies and friends in this part of the world.
At the moment West is imposing strong sanctions against Russia. Do you think India will continue supporting Russia?
International diplomacy is based on understanding. The need of the hour is that the people who rule both the nations work together on all the levels, where there is continued understanding of each other's compulsions, and compulsions behind Russia's action in Ukraine is understood in the positive aspect by India. And I think in the long run the West will also have to go by the mandate that people of Crimea have given through the referendum to align with Russia and cede from Ukraine. And the West will have to respect people's decision that has come through the referendum, which is through the box of the ballot and not through the barrel of the gun.
What role would Russia and BRICS play for India under a potential Narendra Modi government?
Under Modi's government, increased understanding between the two governments would be on cards.
In this context Russia's contribution to power industry, defence industry, diplomacy, promoting people to people contacts is big, and Russia is filling this gap very well. And like I said, Russia is a dependable ally of India. Russia always stood by India, even when India went nuclear, the world condemned India, and Russia stood firmly with us. We can't forget our dependable allies like Russia.
OFBJP Russia chapter team led by Sammy Kotwani & BJP leaders. Source: Vijay Jolly

BRICS is a concept where developing countries have got together. I don't see any reason why it shouldn't be strengthened. It should be strengthened. At the same time the internal compulsions of India and other BRICS nations should be addressed on the relevant international foras.
What about the cultural connections between India and Russia?
You see cultural ties between India and Russia are age-old. Indian films in which Indian legendary actors used to play are still popular and songs from those films are still sung in Russia. So there is a vice versa need for the Russian culture to be better presented in India.
I think there should be more exchange programmes; youth and women exchange programmes should be developed at fast pace. More understanding between the two countries' youth should be the order of the day. It's the youth that can take these relations forward. In the present times, the gap can be filled up by young artists of both countries who can try to bring together the peoples of the two nations by propagating the best values in dance, drama, speech, culture, in religious and historical aspects.
It's your first time in Russia. How do you like the country?
Fascinating, fascinating. I've seen the Brezhnev's era, Gorbachev's era and Putin's era. And I've always dreamt about visiting Russia. And I am very honoured that my dream of visiting Russia capitalized with the opening of the new branch of BJP in Russia.
(This interview has been condensed and edited for clarity)
All rights reserved by Rossiyskaya Gazeta.