Strategy-31 rally goes ahead after getting landmark green light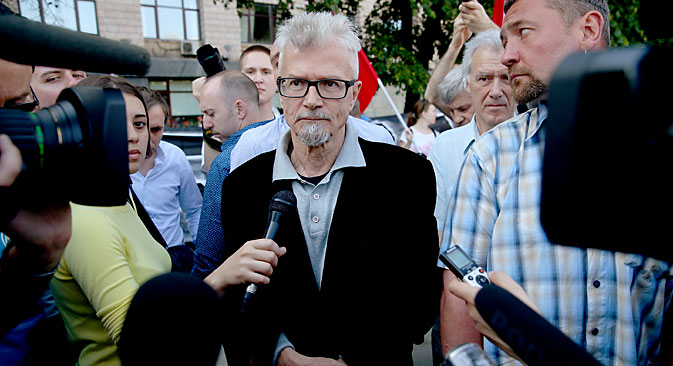 In 2009, Eduard Limonov declared the main goals of the Strategy-31 campaign to be the creation of a venue in Moscow where people could gather to fight for their rights and freedoms. Source: ITAR-TASS
On May 31, the Strategy-31 campaign, named after Article 31 of the Russian constitution, which guarantees freedom of assembly, was able to hold a sanctioned rally in Moscow for the first time since its creation in 2009. All previous attempts at holding Strategy-31 protests ended in police intervention and arrests. Organizer Eduard Limonov is unsure why the protest was sanctioned on this occasion.
On May 31, for the first time since the launch of the Strategy-31 campaign in 2009, a National Bolshevik rally in Moscow's Triumfalnaya Square did not end in detentions.
Staged by activists rallying in defense of Article 31 of the Russian constitution, which guarantees freedom of assembly, every previous Strategy-31 protest in Moscow had been dispersed by police, including special-purpose units, and ended in the detention of its participants.
First-ever rally to be sanctioned
The first ever Strategy-31 opposition rally to have been sanctioned by the Moscow city authorities lasted about an hour and a half. However, it was not so much a rally in the traditional sense, rather a meeting with the ideologue of Strategy-31 and leader of unregistered party The Other Russia, Eduard Limonov, who admitted that his movement had not managed to achieve freedom of assembly all across the country.
"While Muscovites were screaming their heads off in Triumfalnaya Square, police in St Petersburg were arresting six Strategy-31 activists," said Limonov. Yet the National Bolshevik leader has no intention of giving up and is confident that, together with "the masses", he will achieve his goal. To all those who voiced any doubts, he replied: "Eduard Limonov was, is and will continue to be in opposition!" and added: "Glory to Russia!"
Asked by those gathered in the square why the mayor's office had authorized the rally, Limonov was unable to name specific reasons. He went on to express the hope that the next sanctioned protest would gather more people (this time there were no more than 300 people in Triumfalnaya Square). "Although if they don't come, we won't be too upset either," he added.
Controversial leader
Limonov, 71, has gained notoriety for his nationalist writings. The Nationalist Bolshevik leader has been more than once charged with various criminal and administrative offenses for his political activity, with criminal proceedings launched against him in 1996 on charges of inciting ethnic strife. In 2001, Limonov and several other National Bolsheviks were charged with illegal possession of firearms, an attempt to set up illegal armed groups, terrorism, and calls for overthrowing the constitutional regime. Some of those charges were later dropped, but in the spring of 2003, Limonov was convicted and sentenced to four years in prison. He was granted early release in June the same year.
In 2009, Eduard Limonov declared the main goals of the Strategy-31 campaign to be the creation of a venue in Moscow where people could gather to fight for their rights and freedoms, to unite different forces in the fight with pressure from the state, and to rally the public under "a single nonpartisan flag".
First protests and international attention
The very first application to stage a Strategy-31 rally was rejected by the Moscow city government. However, despite the authorities' ban, National Bolsheviks decided to hold an unsanctioned protest on May 31, 2009. On the day, significant numbers of police and other law-enforcement forces amassed in Triumfalnaya Square: over 10 buses with ordinary and riot police, trucks with Internal Troops servicemen, as well as over 10 traffic police vehicles. The square was cordoned off, with all approaches to it blocked by rows of tipper trucks. The organizers of the rally were detained by police without any explanation as to the reason why.
The December 31 rally the same year generated a wave of publicity both inside and outside the country when veteran Russian human rights campaigner and head of the Moscow Helsinki Group Lyudmila Alexeyeva was detained by riot police.
The police detained some 50 people at the protest, including Limonov and Alexeyeva, the latter having spent not more than three minutes in the square. The detention of one of Russia's best known human rights activists became news all over the world and caused heated controversy. As a result, the head of the Moscow police (currently Russian Interior Minister), Major-General Vladimir Kolokoltsev, had to personally call the police stations where the detained activists had been taken to urge them to process the protesters' papers as soon as possible and release them.
Immediately after that, European Parliament chairman Jerzy Buzek and the press secretary of the U.S. National Security Council expressed their outrage at the detention of the veteran human rights activist. Soon after, The New York Times published a front-page article about the protest headlined "Tested by many foes, passion of a Russian dissident endures".
On May 31, 2010, Strategy-31 campaign rallies were staged in 40 Russian cities, with the Moscow one drawing the biggest numbers in the history of the campaign. On that day, some 2,000 protesters gathered in Triumfalnaya Square and refused to leave despite mass detentions and rough handling by the police. Over 170 people were detained in Moscow and, according to various estimates, from 60 to 95 in St. Petersburg.
All rights reserved by Rossiyskaya Gazeta.