Profanity banned on TV, movies and literature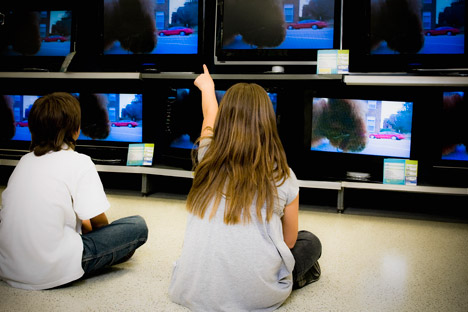 There will be fines for the use of mat in media reports. Source: Getty Images
A law banning the use of swearwords in television, movies, literature, media reporting, concerts, and theatrical productions came into force on July 1. Violators will have to pay hefty fines.
According to a new law that came into effect yesterday, fines will be imposed on "the public performance of works of literature, art, or creativity that contain obscene language." Profanity is also banned "during showings of films, theatrical productions, at the opening of exhibitions, concerts and shows." An independent board will define what it considers to be vulgar language.
A law for people, not people for the law
People's Artist of Russia, Oscar-winning film director Nikita Mikhalkov, said that the law banning profanity in movies needs to be revised.
"The law is for people, and not people for the law. It seems they need to make some kind of adjustment to it and consider the issue with cursing in each individual case, particularly with films. In case that it's a film about war, it's impossible to imagine it without profanity," Mikhalkov told RIA Novosti.
The president of the Moscow International Film Festival added that in the future, the festival's organizers will seek opportunities to show films at the festival that have not yet received distribution certificates from the Russian Ministry of Culture.
"Mat [Russian profanity] is one of the great sophisticated inventions of the Russian people. There's disgusting mat, when people speak it on the train, but there's also mat as a means of expressing extreme human conditions – pain, war, attack, death – and that is justified by the situation. I believe these are things that need to be negotiated in each particular case," Mikhalkov stressed.
Cultivating an obscene culture
Sergey Shnurov, the flamboyant front man of Russian rock group Leningrad, expressed his opinion on this topic, which is an integral component of his songs, in the run-up to the new law at a concert in Moscow. "This country is on the brink of a new Cold War. Clearly, the authorities need 'mobilization,'" Shnurov said. Asked how it is possible to deprive people of their innermost expressions, the artist said, "You can't decide things for people."
Meanwhile, Russian poet and doctor of philosophical sciences Igor Volgin does not think the law will cause any fundamental changes in literature and art.
"Nothing will particularly change. Mat is a phenomenon of speech, it's not public. Russian culture has managed perfectly fine without profanity. Yes, Pushkin and Lermontov and other poets had poetry that used profanity, but all of this was a marginal culture outside of the public space," Volgin said.
A hefty fine for cursing
The fine for offensive language ranges from 2,000 to 2,500 roubles ($60-$80) for individual citizens, from 4,000 to 4,500 roubles ($130-$170) for officials, and from 40,000 to 50,000 roubles ($1,300-$1,700) for legal entities. The same fines apply for the use of mat in media reports. If there is a repeat offense, the penalty increases.
In the poet's opinion, the new prohibition on obscene language will serve as a "red rag for a bull," and talentless artists will bring attention to their work through the prism of "protest." "I've always said that we don't need to save literature from mat, but mat from literature. Nobody ever got it in their head to bring that all into the public space earlier. There has always been self-censorship and an internal cultural ban on the part of the writer and the artist. It's a really bad thing that we need to place a taboo on mat at the legislative level now," Volgin said.
With the new law, printed and audiovisual work that contains mat can only be sold in special packaging with a warning label. If a film contains vulgar language, it cannot be issued a distribution certificate, and movies without certification are fined. The law does not apply to products that were released before the law entered into force.
All rights reserved by Rossiyskaya Gazeta.