Peace March brings thousands into the streets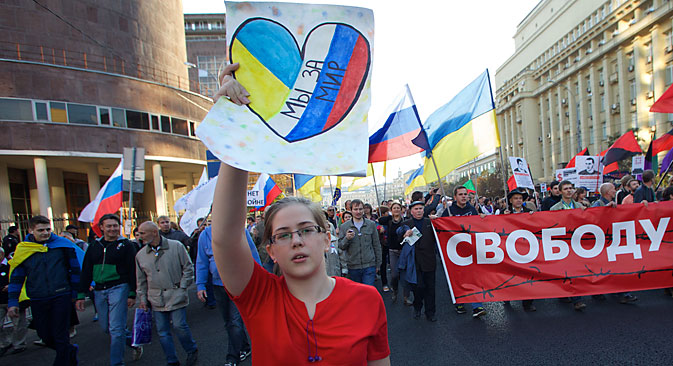 The participant of the march in Moscow. Source: AP
A Sept. 21 gathering drew people from all walks of life to protest fighting in Eastern Ukraine.
Thousands of people turned out in the center of Moscow on Sept. 21 to call for peace in Ukraine. The march was organized by several liberal opposition parties, includingYabloko and RPR-Parnas. It was the first major opposition march in Moscow since a March 15 gathering. Local police put the turnout at 5,000, while the AP reported 20,000 and organizers, 30,000-40,000.
An hour before the march began, several dozen supporters of the pro-autonomy forces in Donetsk and Lugansk gathered at the march start site on Pushkin Square. Wearing the black-and-orange St. George ribbons widely associated with the pro-autonomy movement, they chanted "Shame on this march of traitors! Donbass, Russia is with you!" as the peace march participants began to gather.
Source: RBTH
Arguments and fights began to break out, but the police on hand moved between the two groups and the tension gradually subsided as the marchers began to move along the proscribed route down the Boulevard Ring towards Academic Sakharov Avenue.
Many participants in the march carried yellow-and-blue Ukrainian flags, and a few dressed in Ukrainian national costumes featuring embroidered peasant shirts and dresses. Others waved the Russian flag. The flags of Georgia, Poland, and the European Union were also present in the crowd.
Numerous protesters carried posters and banners calling for peace, some of which accused the Russian authorities of war crimes. One group of marchers carried placards with pictures of Russian soldiers killed in Ukraine.
Protestors chanted a variety of messages calling not only for peace but also for releasing political prisoners, including Alexei Navalny.
The crowd attracted people from all walks of life, including parents and children, hipsters, and senior citizens, along with well-known opposition political figures such as Boris Nemtsov of RPR-Parnas and Yabloko leader Sergei Mitrokhin.
When the crowd stopped at Academic Sakharov Avenue, a man behind a barrier fence blasted John Lennon's "Imagine" through portable speakers as protestors clapped.
Mitrokhin then delivered a short speech. "We came here today to tell our government: 'Stop, come to your senses and stop this war!,'" Mitrokhin said. "And I am sure that we were heard. Many people came out today, we all came together to say that we are against this war, and we are against this government, which is unleashing this war. We are for peace!"
Protests were also held in St. Petersburg and other Russian cities as well as in other cities around the world.
In the United States, actions in New York, Washington, Los Angeles, San Francisco, Seattle and Houston were organized by the American Russian-Speaking Society for Civil and Human Rights.
The Association also provided media and information support for a rally in Boston held by the Ukrainian community.
"As Russian-Americans, we cannot be silent when the present Russian government intervenes militarily in Ukraine's affairs, while continuing to suppress freedoms in Russia, and transforms it into a pariah state," said Dmitri Glinski, the co-chairman of the association's board in a press release. "We have come here to affirm our vision of a future peaceful, democratic Russia that respects the rights of its own and other people, is a respected member of the community of democratic nations, and asserts itself by the power of its ideas, science, technology, and the arts, not by military power. This is the vision upon which Russian Federation was built in 1990-1991, and we stand in solidarity with those Russians who are rallying today in Russia and around the world in support of this vision."
All rights reserved by Rossiyskaya Gazeta.