Citizenship procedures simplified for foreign investors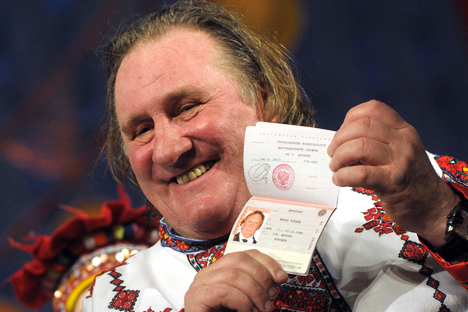 French actor Gerard Depardieu was granted Russian citizenship in 2012. Source: TASS
A new law speeds up the process for foreign investors to attain Russian citizenship. Observers interviewed by RIR believe that while the government's decision is timely, it will have little influence on helping Russia escape economic recession.
Russian Prime Minister Dmitry Medvedev has signed a government decree on the simplifiсation of the procedure for obtaining Russian citizenship for certain groups of foreign entrepreneurs, investors and qualified specialists.
These amendments to the law facilitating the acquirement of citizenship, signed into law by Medvedev on Oct. 1, were approved in June 2014. The change affected only those businessmen whose annual income exceeded 10 million rubles ($250,000) and investors whose share in the capital of Russian companies was more than 10 percent.
"With the aim of attracting foreign investment in the Russian economy, the simplified procedure for obtaining Russian citizenship will concern foreign entrepreneurs and investors whose activity is included in the Russian classifier of types of economic activity, with some exceptions," reads the decree.
The new law will not, for example, include businessmen active in wholesale trade with Russia. Neither will this preferential procedure apply to activities related to the repair of cars and motorcycles, to hotels, public food enterprises, real estate companies, employment and headhunting agencies, commercial companies, or legal and accounting services.
"These exemptions are conditioned by the absence of demand for the additional attraction of new participants in the corresponding types of activities," the document underlines.
Breaking out of the vortex of sanctions
"Such a procedure exists in every country, and I am glad that Russian legislation has hastened to accept the decree," said Alexei Skopkin, Director of the Department of Regional Economy and Economical Geography at the Higher School of Economics in Moscow.
"This is an excellent opportunity to increase the quantity of work places in the country during the recession caused by the economic pressure of sanctions."
According to Skopkin, it is necessary to avoid a situation in which in order to obtain citizenship, the income of a businessman and his enterprise must exceed a stratospheric level.
However, Vladimir Klimanov, Director of the Department of State Regulation of Economy at the Russian Presidential Academy of National Economy and Public Administration (RANEPA), expressed skepticism as to whether the law would be of sufficient scope.
"I am afraid that after being approved, the document will bear too much of a specific nature and will not have a large effect on small enterprises," said Klimanov.
"It's important that this decision does not become just a publicity move for the government that will not actually be implemented later."
Klimanov believes that although the decision will have an insubstantial effect on Russia leaving the recession, it is nonetheless timely.
All rights reserved by Rossiyskaya Gazeta.