Press Digest: Will there be a Maidan 3.0?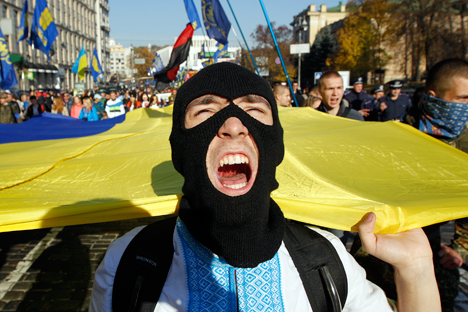 RBTH presents a selection of views from leading Russian media on international events, featuring a recap of the issues that remain to be resolved between Russia and Ukraine, the latest on the ISIS crisis and President Vladimir Putin's agenda in Belgrade.
Russian newspaper Nezavisimaya Gazeta writes that the prospects for reaching a political settlement in eastern Ukraine can only be discussed once Ukrainian President Petro Poroshenko and Russian President Vladimir Putin are able to agree on a solution to the gas crisis.
The newspaper reports that Russia has not written off Ukraine's gas debt, but has postponed addressing the issue until the Stockholm Court of Arbitration reaches a verdict on the dispute. Because the hearing may drag out, however, Russia has settled for an interim decision that will make it possible to avoid a gas crisis during the coming winter. Experts in Kiev think that the Ukrainian government simply lacks the funds to pay back its debt. Nezavisimaya Gazeta cites economist Alexander Okhrimenko as saying that the lion's share of the first two tranches of the new IMF loan to Ukraine were used to pay off old debts, while the remainder was used partially to make an advance payment for gas supplies from Europe.
If the gas issue were resolved, it would be the first agreement reached between Russia and Ukraine since the conflict began. As a result, this would signal the potential for reconciliation in the Donbass. However, Nezavisimaya Gazeta cites experts in Kiev as saying that Ukrainian Prime Minister Arseniy Yatsenyuk could be opposed to any agreement.
According to newspaper Moskovsky Komsomolets, tensions are rising within Ukrainian society. The paper writes: "Maidan won, but a happy life under the European Union's wing has remained an illusion. Reality has presented the winners with war, economic collapse, the loss of Crimea, and complete uncertainty regarding the future as a gift."
Citing expert opinion, MK adds that the "process of sobering up" is beginning in Ukrainian society and it is becoming harder to divert public anger towards Russia. According to analysts from RIA Novosti Ukraine, mass public protests could erupt again by next spring.
Igor Kharchenko, director of the Center for the Development of Society told MK that Ukraine's political elite cannot cope with the new challenges facing it, and it is therefore "extremely afraid of a Maidan 3.0." "The authorities have six months at most to implement radical changes. If that doesn't happen, they will need to prepare for snap elections again in the spring," Kharchenko said.
Amid battles for the strategic Syrian city of Kobani, ISIS rebels are deploying a decisive offensive in Iraq, according to Kommersant. ISIS troops have begun to battle for the strategically important province of Anbar, which is a buffer zone between Baghdad and the Syrian territories controlled by militants. Control over this territory would give the jihadists a direct path to Baghdad.
ISIS currently has the upper hand militarily in the province. Kommersant cites deputy head of the local administration Faleh al-Essawi as saying that if there is no breakthrough in the confrontation between the Iraqi army and ISIS in the near future, the militants could establish full control over the Anbar province by the end of the week. The Iraqi army's inability to resist ISIS has forced the country to ask the U.S. to initiate a ground operation. However, for the moment, the Americans and their allies are ruling out that possibility, Kommersant reports.
Expert magazine has published an article about Russian President Vladimir Putin's upcoming visit to Serbia. Serbia's importance as a partner to Russia has skyrocketed in recent years, partially due to the country's support for the South Stream gas pipeline project.
According to Expert, during the interview Putin once again tried to convey to his Western partners that Russia is a reliable energy supplier that is doing everything it can to maintain safe gas supplies. Putin noted that although there will be interruptions in gas supplies this winter, Moscow is not to be blamed; rather, it is the fault of European leaders who are doing all they can to prevent Russia from definitively excluding Ukraine from gas transit plans. According to Putin, South Stream will make a substantial contribution to comprehensive energy security for Europe. "Everyone wins from that: both Russia and European consumers," Expert cited Putin as saying.
All rights reserved by Rossiyskaya Gazeta.