Putin: U.S. attitude to Russia "antagonistic"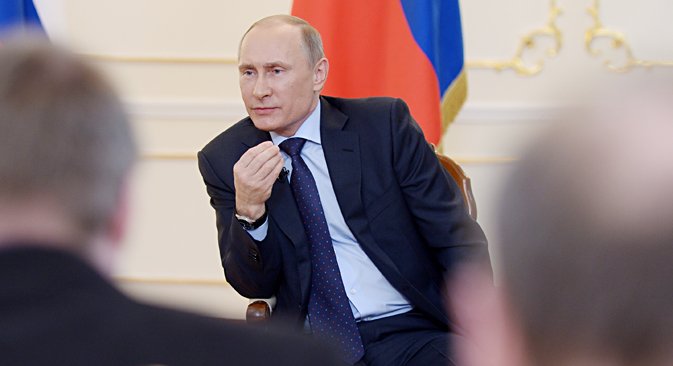 Vladimir Putin gave an interview to the Serbian daily 'Politika'. Source: TASS
Ahead of a visit to Belgrade, the Russian president gave an extensive interview on relations with the U.S. and the effectiveness of sanctions.
In an interview with the Serbian daily "Politika" ahead of a visit to Belgrade, Russian President Vladimir Putin spoke extensively about U.S.-Russian relations, Ukraine and the effect of sanctions on the Russian economy. Here are some highlights.
On U.S.-Russian relations
Putin called on the United States to demonstrate consistency in its relations with Russia and has warned against any rift between the major nuclear powers, but described the attitude of U.S. President Barack Obama's administration toward Moscow as "antagonistic."
"We have always sought to have transparent relations with the U.S. as partners. However, instead, we have received different reservations and attempts to interfere in our domestic affairs."
"Speaking at the UN General Assembly, President Obama named Russian aggression in Europe among today's three main threats facing mankind, along with the deadly Ebola virus and the Islamic State terrorist group."
"Amid the restrictions imposed on whole sectors of our economy, such an approach can be called nothing less than antagonistic."
"The U.S. has suspended cooperation with Russia in space exploration and nuclear power, as well as the activities of the Russian-American Presidential Commission."
"We hope that our partners will realize the irrationality of attempts to blackmail Russia and will recall how damaging a rift between the major nuclear powers may prove to strategic stability. Russia, for its part, is ready to further promote constructive cooperation based on the principles of equality and actually heeding each other's interests."
On Ukraine
Putin warned that attempts to put pressure on Moscow by way of sanctions could hamper efforts to settle the crisis in Ukraine, calling the idea of Russia's possible isolation an "illusion."
"Washington actively supported Maidan and then started to accuse Russia of provoking this crisis when its henchmen in Kiev set a considerable part of Ukraine against themselves by their unbridled nationalism and plunged the country into a civil war."
"Our partners ought to understand clearly that attempts to put pressure on Russia by way of unilateral, illegitimate and restrictive steps are not contributing to the settlement [in Ukraine]. Rather, they will only serve to hamper this dialogue."
"What kind of intentions to de-escalate [the situation] in Ukraine are you speaking about when decisions on new packages of sanctions are adopted almost simultaneously with agreements to promote a peace process? If the main goal is to seek to isolate our country, it is a totally absurd idea, an illusion."
On sanctions
Putin believes that the existing economic sanctions may cause long-term damage to the reputation of Western companies working in Russia.
"Obviously, a decline in mutual trust cannot help but negatively impact both the international business climate in general and the activities in Russia of European and American companies, which will have difficulty overcoming the damage caused to their reputations."
"Meanwhile, other states will also give careful consideration to whether it is reasonable to entrust their money to the American banking system and increase their dependence on economic cooperation with the U.S."
Russia, for its part, "will take balanced approaches to assessing all risks and consequences of the application of these sanctions and will respond to them in line with its national interests."
All rights reserved by Rossiyskaya Gazeta.