Law enforcement cooperation continues despite political disagreements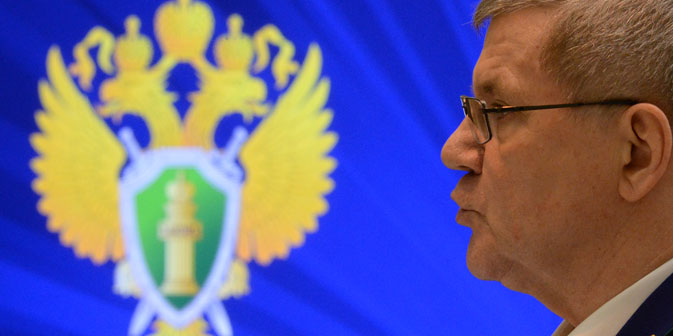 Yury Chaika: 'International cooperation is not only continuing but is developing further.' Source: Maxim Blinov / RIA Novosti
Despite disagreements between Russia and the EU over the crisis in Ukraine, European law enforcement agencies continue to work with their Russian counterparts on many high profile cases, including the extradition of criminals and the repatriation of illegally expropriated funds. Russia's Prosecutor-General Yury Chaika spoke about this international cooperation in an interview with Rossiyskaya Gazeta.
Rossiyskaya Gazeta: How effective is the prosecutor's office in returning capital and assets that have been stolen and taken out of Russia? Have you seen a change in the attitude of our foreign partners after the sanctions were introduced against Russia?
Yury Chaika: The introduction of sanctions has practically had no effect on our cooperation with foreign colleagues. Last year we considered nearly 1,500 requests from the relevant foreign agencies for the extradition of criminals from Russia. For their part, our foreign partners received some 400 extradition requests from us.
Last year, French courts twice issued rulings confirming the validity of Russia's requests for the extradition of the former finance minister of Moscow Region, Alexei Kuznetsov, and Kazakh tycoon Mukhtar Ablyazov. On our demands, these two individuals have been held in custody in France for 18 months. Final rulings in their cases are expected this year.
We have also secured the extradition of a major drug dealer, Ivan Savkich, from Ecuador. During the two years that he had been held in custody in that country at our request, he was stripped of Ecuadoran citizenship.
In December, American colleagues approached us with a proposal to resume the work of a joint working group that had been operating for three years. The Americans have suggested holding its first session in Moscow as early as the first quarter of 2015.
As you can see, international cooperation is not only continuing but is developing further.
R.G.: Are capital and assets being brought back to Russia too?
Y.C.: By all means. We actively cooperate with our foreign colleagues in the task of searching for, impounding, confiscating and returning money and assets obtained through illegal means and taken out of the country.
In 2014 alone, the relevant authorities in France and Italy, on motions submitted by us, impounded six large properties, including luxury mansions and resort hotels, worth hundreds of millions of euros in connection with criminal cases launched against [deceased oligarch Boris] Berezovsky, the aforementioned Kuznetsov and others.
Despite the fact that, technically, those properties belong to foreign legal entities, courts took into consideration our arguments that those assets had been purchased with funds obtained in Russia through criminal means.
Assets belonging to a former member of the Federation Council, Igor Izmestyev, who is serving a life sentence in Russia [for ordering the murder of his former partner's wife], have been returned from Switzerland. We had been working for several years in order to implement a Russian court verdict as regards compensation to the families of those who were killed by members of his gang.
R.G.: Has Ukraine filed an extradition request for [former president] Viktor Yanukovych? Are there any contacts between prosecutors of the two countries or have they been frozen?
Y.C.: So far, we have not received requests for the extradition of Ukrainian politicians, including Yanukovych. If and when these requests come, they will be considered in accordance with international treaties and Russian laws.
Overall, we maintain the necessary contacts with the Ukrainian Prosecutor-General's Office. Among other things, we submit requests for legal assistance to Russian investigations authorities and consider similar requests from the Ukrainian side.
First published in Russian in Rossiyskaya Gazeta.
All rights reserved by Rossiyskaya Gazeta.