Anti-Maidan movement established in Russia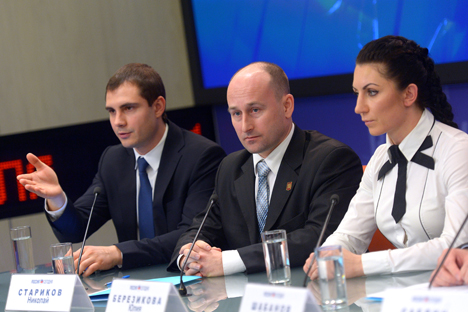 Members of the citizen action group of the Anti-Maidan public movement mixed martial arts world champion Yulia Berezikova (right), writer Nikolai Starikov (center) at a news conference "Contemporary Challenges: Revolutions, Illegal Acts; How to Protect Your Country From Collapsing." Source: Vladimir Trefilov / RIA Novosti
On Jan. 15, Russian "patriots" announced the creation of a new movement – Anti-Maidan. The purpose of Russia's Anti-Maidan is to fight against any opposition forces that might attempt to instigate a coup or a Color Revolution against the Russian government.
The group's organizers announced its establishment at a press conference on Jan. 15. The Russian Anti-Maidan is headed by Dmitri Sablin, director of the veteran's organization Combat Fraternity. Sablin was a long-time State Duma deputy and a remains a prominent member of the ruling United Russia party. Leadership roles are also held by Alexander "the Surgeon" Zaldostanov, head of the Night Wolves motorcycle club, a nationalist organization with ties to the Orthodox Church; and publicist and politician Nikolai Starikov, founder of the leftist Great Fatherland party.
Demonstration on Manezh Square
Following the press conference, the new group held its first meeting – a demonstration on Moscow's Manezh Square in front of the Kremlin. Supporters of opposition leader Alexei Navalny had also gathered there to show their discontent with the recent sentencing of Navalny and his brother Oleg on charges of fraud and money laundering related to the cosmetics firm Yves Rocher.
Both Navalny brothers were sentenced to 3 1/2 years in prison, however, Alexei's sentence was suspended. Originally, the sentencing results were scheduled to be announced on Jan. 15, which is why a demonstration by their supporters was planned for that day. However, the sentencing announcement was made on Dec. 29. The protest was held as scheduled anyway.
Starikov told RIR that between 1,500 to 2,000 supporters of Anti-Maidan came out to Manezh Square, although both local English-language newspaper the Moscow Times and the city police estimate that only 500 people showed up. An additional 100 people turned out in support of Navalny.
Many speculate that the low turnout by the opposition is because Navalny asked his supporters the day before on liberal radio station Echo Moscow to wait for larger demonstration in February. It is also remains unclear if those who demonstrated against Navalny were all in support of Anti-Maidan, or were merely united against the opposition. According to the website ovdinfo.org, which monitors police activity in Russia, 13 Navalny supporters were detained, as well as three people demonstrating against the opposition.
A "pertinent task"
According to Starikov, the creation of Anti-Maidan was a pertinent task, as the situation in southeastern Ukraine demonstrates. "If 1 1/2 years ago you had asked Donbass residents about the probability of the Ukrainian army shelling Donetsk with large-caliber artillery, I think you would have been laughed at in the best case, and in the worst, considered mad or really odd," Starikov said. "We are witnessing clear and consistent work carried out by Russia's geopolitical opponents. We are ready to employ preventive measures so that these instruments would fail on our territory."
Zaldostanov expressed the same idea a bit differently. "I see how the overseas hags are baking pies in order to distribute them on the squares and pit our people against each other," Zaldostanov said, referring to an incident on Maidan Square in Kiev in which Assistant U.S. Secretary of State Victoria Nuland distributed food among anti-government demonstrators there. The Russian government has persistently accused the U.S. and Europe of meddling in Ukraine.
A new version of Nashi?
Meanwhile, several Russian media sources have implied that the Anti-Maidan initiative is a Kremlin idea like the Nashi youth movement, which was established after Ukraine's 2005 Orange Revolution. Although Nashi began with the stated goal of undermining fascism in Russia, the movement is best known for its controversial protests, including against Estonia and a former British Ambassador to Russia. The Kremlin's support for Nashi has waned in recent years and as an organization, it has practically ceased to exist.
Starikov believes that this is not a reasonable comparison. He says that Nashi was created from above, whereas Anti-Maidan is a grassroots initiative. Moreover, Nashi was a youth movement, whereas Antimaidan is composed of older participants, including veterans from the war in Afghanistan and former secret service officers.
"Don't chase after revolutionaries"
At the same time some political analysts are skeptical about the efficacy of the new movement. According to Mikhail Remizov, president of the Institute of National Strategy, an independent academic center, "Color Revolutions are revolutions with a new formation and you can't prevent them by chasing after revolutionaries."
Remizov believes that in the current situation, if the group wants to be successful, it is important to inspire the part of society that does not support the opposition organized around Alexei Navalny. He adds that the Anti-Maidan movement is concentrating its attention on groups whose political influence is insignificant.
All rights reserved by Rossiyskaya Gazeta.