The week in quotes: gas, journalists' brains and generous Russian deputies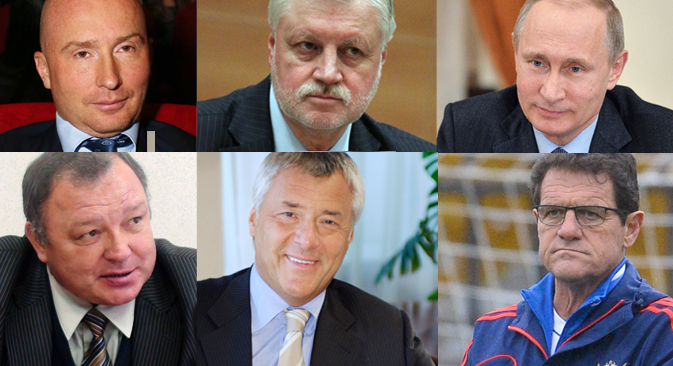 A famous Russian proverb says: "A word is not a sparrow. If flies out, there is no way to catch it." In this new weekly column, RBTH will try to catch the most important Russia-related quotes of the week to give you a new way to look at the news. They will be short, concise, sometimes funny, sometimes thought-provoking, but will always give you a quick look at the most important happenings of the past seven days.
Taking one for the team
Igor Lebedev. Source: Vyacheslav Prokofiev / TASS
"We even won't discuss it. We'll just inform our deputies that the resolution on a 10 percent salary reduction has been accepted <…> We understand that 10 percent will not save the country from the economic crisis. But we are ready to cut our salary more. And if tomorrow the Duma chairman says we need to cut it, for instance, by 30-35 percent - we are ready."
Vice chairman of the State Duma Igor Lebedev (LDPR party) on Duma chairman Sergei Naryshkin's initiative to correct the budget of the Russian parliament, Tuesday, Feb. 24
Going one better
Sergey Mironov. Source: RG
"I'm transferring almost 90 percent of my salary to the people. I began to do this when I worked as a deputy of the Legislative Assembly in 1996."
Leader of A Just Russia party Sergei Mironov's reaction to the same initiative. Thursday, Feb. 26
Unfortunate turn of phrase
Vladimir Putin. Source: RG
"I know that around four million people live there. Imagine all these people finding themselves without gas supplies in winter. Not only is there famine there - the OSCE (Organization for Security and Co-operation in Europe) has already acknowledged a humanitarian disaster there - now they have been cut off from gas supplies. What does this look like? This already has a whiff of genocide."
Russian President Vladimir Putin at his press conference about Kiev's decision to stop gas supplies to the Donbass region in eastern Ukraine. Wednesday, Feb. 25
The art of choice
Vyacheslav Telnov. Source: RG
"We are choosing the topics which, in our opinion, need additional promotion. Last year, for example, we paid special attention to the production of films for the anniversary of victory in the Great Patriotic War. It's logical that Crimea was chosen as one of the topics for 2015."
Head of Russia's Cinematographic Dept. Vyacheslav Telnov on the presentation of a list of topics considered favorable by the Ministry of Culture. Filmmakers may receive funding from the ministry if they choose one of the topics as the subject of a film. Wednesday, Feb. 25
Central 'ventilation'
Gennady Kudiy. Source: RG
"These are not just people, these are people with brains, these are people who know how to write. And where will they turn tomorrow, so to say, their talents? It's a big issue. And I think it needs to be ventilated at the government level [to be resolved – RBTH]."
Deputy head of the Rospechat' periodicals dept Gennady Kudiy on journalists, speaking about a possible second wave of redundancies in the Russian press industry that could hit up to a third of the professional community. Thursday, Feb. 26
Patience is a virtue
Fabio Capello. Source: RG
"In two months I could have broken off my contract and gone making complaints to FIFA and UEFA for compensation but I decided not to do that."
Head coach of the Russian national soccer team Fabio Capello on the 8-month delay of his salary payment from the Russian Football Union. To the moment of discharge the debt was 6,7 million euro. Wednesday, Feb. 25
February 16-20: The week in quotes

All rights reserved by Rossiyskaya Gazeta.