The week in quotes: Leopards in love, atomic candies and the fantasies of Pentagon officials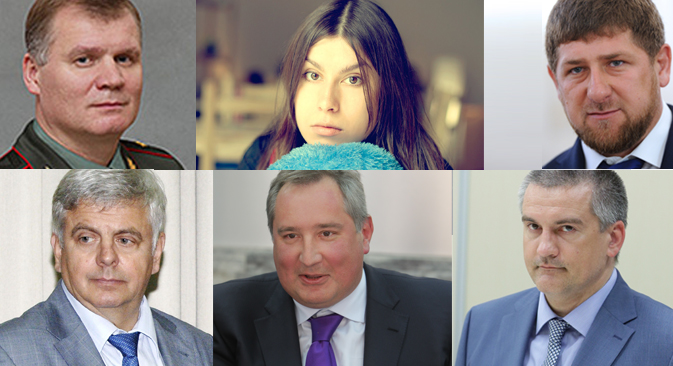 A famous Russian proverb says: "A word is not a sparrow. If flies out, there is no way to catch it." In this new weekly column, RBTH will try to catch the most important Russia-related quotes of the week to give you a new way to look at the news. They will be short, concise, sometimes funny, sometimes thought-provoking, but will always give you a quick look at the most important happenings of the past seven days.
The price of honor
Ramzan Kadyrov. Source: RG
Giving my life for such a person is an easy task. I confirm that I will fulfill any order, solve for him any task, no matter what it may cost me!
Chechen President Ramzan Kadyrov writing about President Vladimir Putin on a social network after Putin awarded him the Order of Honor. Tue, March 10.
Did those soldiers have blue skin under their camouflage?
Igor Konashekov. Source: Mil.ru

Frankly speaking, it's hard to escape the impression that some representatives of the U.S. State Department and the Pentagon are living in some kind of dream world are living in some kind of the dream and adventure world, like the Pandora gas planet [from the movie Avatar], which is known only to them.
Igor Konashekov, the official representative of Russia's Ministry of Defense, commenting on the statements by U.S. officials on Russian forces in Ukraine. Thu, March 12.
Will Nuland take her spring break in Crimea?
Sergei Aksyonov. Source: RG

Why not to go to the streets, walk through the center of the cities, see how people live there, ask the questions herself?
Sergei Aksyonov, head of the Republic of Crimea, on a comment by U.S. Assistant Secretary of State Victoria Nuland that Crimea exists in a "reign of terror." Wed, March 11
Spring cleaning in space
Vladimir Solovyev. Source: RG

Extravehicular activity <…> is planned on the middle of July. In general it will be focused on the research experiments including a very interesting experiment on the cleaning of porthole glasses.
Russian ISS orbital director Vladimir Solovyev on the future plans of Russian cosmonauts. Thu, March 12.
Floating power
Dmitry Rogozin. Source: RG

When we get – and we definitely get it – it will be as desirable as candy.
Deputy Prime Minister Dmitry Rogozin, who is responsible for Russia's military-industrial complex, speaking about Russia's first floating atomic power station, which is scheduled to be completed in September 2016. Wed, March 11.
Endangered love
Maria Okulova. Source: Personal Archive

Initially she growled at the leopard, but shortly after came closer and tried to make friends by somersaulting in the snow right near him. This lasted several hours, but Meamur remained unapproachable.
Maria Okulova, chief manager of The Land of Leopards organization, on the mating habits of the critically endangered Amur leopards. Thu, March 12.
Read more:
The Lakhta Center skyscraper in St. Petersburg will be the tallest in Europe
RBTH tries to catch the most important Russia-related quotes of this week
All rights reserved by Rossiyskaya Gazeta.