The week in quotes: Putin found, a lost golden loaf and WWII vs. Crimea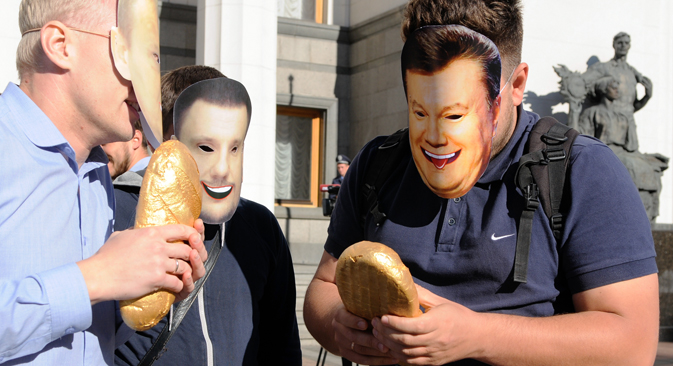 Participants in an anti-corruption event near Ukraine's Verkhovna Rada. Source: Alexandr Maksimenko / RIA Novosti
A famous Russian proverb says: "A word is not a sparrow. If flies out, there is no way to catch it." In this new weekly column, RBTH will try to catch the most important Russia-related quotes of the week to give you a new way to look at the news. They will be short, concise, sometimes funny, sometimes thought-provoking, but will always give you a quick look at the most important happenings of the past seven days.
Putin reveals himself
Vladimir Putin. Source: AP
"It would be boring without gossip."
Russian President Vladimir Putin during his meeting with Kyrgyz President Almazbek Atambayev at the Konstaninovsky Palace in St. Petersburg, after telling assembled journalists that he was in good health. Atambayev explained that Putin had driven the guests around the grounds of the palace by car. It was Putin's first public appearance in 10 days.
Ukraine's missing loaf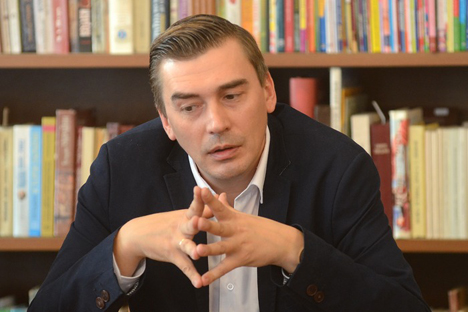 Dmitry Dobrodomov. Source: Rossiyskaya Gazeta
"The location of the notorious 'golden loaf' is unknown. In fact, it has been stolen. The question is by whom?"
Dmitry Dobrodomov, chairman of the committee in charge of combating corruption in Ukraine's post-revolutionary parliament, on the loss of a paperweight made of gold in the form of a loaf of bread, found last year in ousted President Viktor Yanukovych's residence. Tuesday, March 17.
Where's home?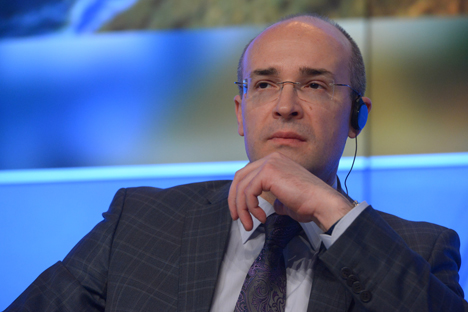 Andrei Kondrashov. Source: RIA Novosti
"Of course, it's the greatest event in Russian history. In my view, it ranks second in importance after the victory in World War II."
The author of TV documentary "Crimea: The Path to the Motherland" Andrei Kondrashov on the annexation of Crimea after a special screening of the film. Wednesday, March 18.
Beauty and… the beauty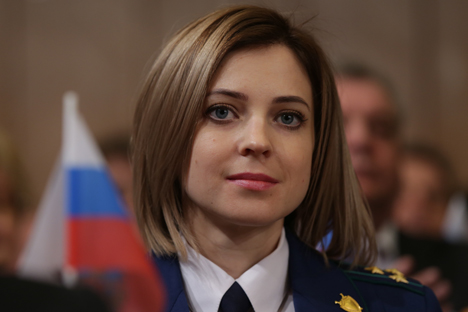 Natalya Poklonskaya. Source: Rossiakaya Gazeta
"These sanctions have had no effect on me. I have no plans to leave the country. It's vast and so beautiful."
Prosecutor General of the Republic of Crimea Natalya Poklonskaya on the personal sanctions imposed by EU on her and other officials of the peninsula. Tuesday, March 17
Shy but not forgotten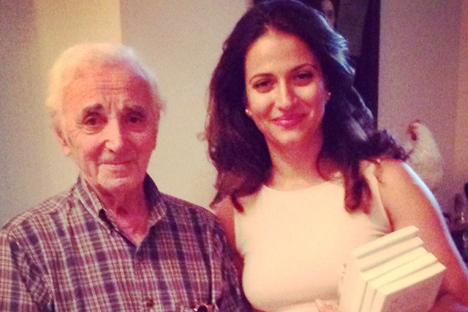 Kristina Sarkisyan. Source: Personal archive
"The organizers have promised to provide Lidiya Ivanovna with a ticket to the concert. She has been found but refuses to attend because of her shyness."
Famous French and Armenian singer Charles Aznavour's press secretary Kristina Sarkisyan on his 73-year-old Russian fan "Babushka Lida," who was filmed singing one of his songs in the Moscow subway. The video, which went viral after being uploaded to the internet, was shown to the organizers of Aznavour's April 22 Moscow concert. Thursday, March 19
Read more:
$2.2 billion is how much Russia has spent on Crimea in the past year, according to the Russian Ministry of Finance
Behind the headlines: News curiosities selected from the week's Russian press in 1915
All rights reserved by Rossiyskaya Gazeta.