Crimea: Do Amnesty International claims of 'climate of fear' have any basis?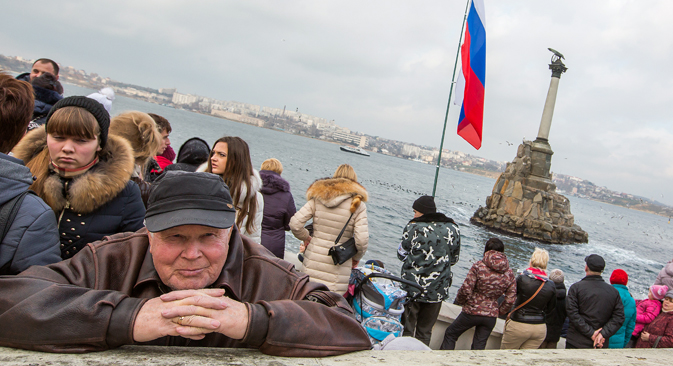 Local residents attend an air show in Sevastopol, Crimea. Source: Marina Lystseva / TASS
Amnesty International has released a report on the human rights situation in Crimea, timing it to coincide with the first anniversary of the peninsula's takeover by Russia. The report speaks of abductions and torture, attacks on the media and NGOs, violations of the rights of Crimean Tatars. However, representatives of some local organizations do not agree with these findings.
Human rights organization Amnesty International (AI) has published a 24-page report on the situation in Crimea. The authors of the document report numerous instances of human rights violations on the peninsula and say that over the past 12 months several people in Crimea have gone missing.
According to the report, released on March 18, seven people have been abducted, including three Crimean Tatars, one of whom was found dead in spring last year with signs of torture on his body. The whereabouts of the remaining six people remain unknown.
One of the authors of the report, an AI researcher for Ukraine, Belarus and Moldova, Krasimir Yankov, told RBTH from Kiev that Amnesty did not see any progress in the investigation into the disappearances. At the same time, he said, the authorities had listened to the families of the abducted people and set up a contact group that had "met several times, promising to investigate all those incidents."
Yankov pointed to the fact that all the abducted people had one thing in common, their "pro-Ukrainian stance" and the fact that they had protested against Russia's takeover of Crimea.
In February, the head of the Russian Investigative Committee's directorate for Crimea, Mikhail Nazarov, announced that 12 criminal cases were being investigated in Crimea in connection with "missing people."
Crimean Deputy Prime Minister Ruslan Balbek told RBTH that the investigation is being carried out by the law-enforcement agencies, which are outside the supervision of the Crimean government.
'Something out of nothing'?
Seytumer Nimetullayev, the head of Kyrym Birligi (Crimea Unity), a pro-Russian public organization formed in 2014 that describes its task as assisting "the revival of the Crimean Tatar people," told RBTH that he was aware that several people had gone missing but he did not know whether they had been abducted or "had left of their own accord." In either case, those were individual incidents, he claimed. According to him, "somebody is hyping up" this issue, while "Western media are trying to make something out of nothing."
At the same time, Nimetullayev stressed that "Crimean Tatars were experiencing a lot of problems." However, he continued, those problems have been caused by becoming part of a new state. The main difficulties are related to acquiring plots of land and registering them as one's property.
Ivan Garda, who heads the MIR Congress of Human Rights and Freedoms, which unites a group of socially-oriented NGOs, also says that the main problem being experienced by Crimean Tatars is related to obtaining land. Garda told RBTH that about a quarter of all the cases that human rights activists of his NGO are dealing with are complaints from Crimean Tatars related to the allocation of land rather than political problems.
Climate of fear?
According to Amnesty International, "the de facto authorities are creating a climate of fear in Crimea, using intimidation and restrictive laws to silence the media and NGOs." Garda, speaking of his experience over the past 12 months, said that the authorities may be lacking understanding about how public organizations work, however, they do not hinder NGOs in their work and sometimes assist them.
Garda also spoke of the situation concerning NGOs that have ceased operation over the past 12 months. Amnesty reports that "a number of prominent independent organizations have ceased to exist" in Crimea. According to Garda, many of those NGOs were funded from abroad and left after refusing to register under the controversial law requiring such NGOs to register as "foreign agents."
"After the historical events, three-quarters of heads of those NGOs [with funding from abroad] left for Kiev and did not reregister them," said Garda, adding that they may still return. At the same time, he continued, "we have the Helsinki Group and several international organizations that are financed by foreign funds working here."
Read more:
The European Union deliberately restricts Crimean residents' freedom of travel by obstructing the issuance of Schengen visas to them, Russian Foreign Ministry spokesman Alexander Lukashevich said
Russians more concerned with economics than politics
All rights reserved by Rossiyskaya Gazeta.