The week in quotes: Kremlin McDonald's, a head transplant and crazy Svetlana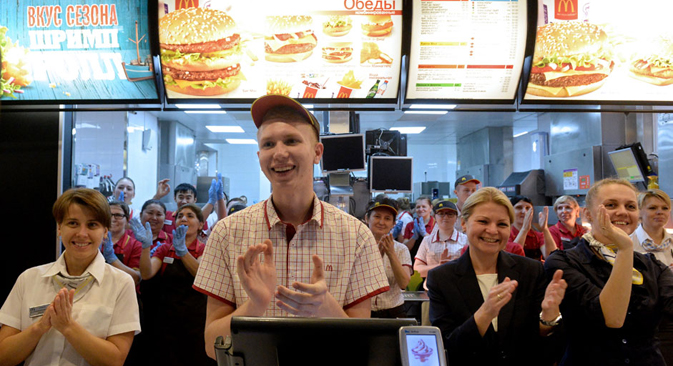 The first McDonald's restaurant in Russia on Pushkin Square in central Moscow. Source: RIA Novosti / Mikhail Voskresensky
A famous Russian proverb says: "A word is not a sparrow. If flies out, there is no way to catch it." In this new weekly column, RBTH will try to catch the most important Russia-related quotes of the week to give you a new way to look at the news. They will be short, concise, sometimes funny, sometimes thought-provoking, but will always give you a quick look at the most important happenings of the past seven days.
Clear headed decision
"This decision was absolutely deliberate. I understand all the risks. My fear is equal to that of the man who takes a step into obscurity."
Russian programmer Valery Spiridonov on his desire to be the patient of Sergio Canavero. The neurosurgeon of the Turin Advanced Neuromodulation Group in Italy is planning to make the world's first head transplant. Wednesday, April 8.
The source of insanity
"We have hired crazy Svetlana to trade shares."
London's Sberbank ex-employee Svetlana Lokhova quotes trader David Longmuir who, as confirmed by the court, insulted her in a corporate letter. This week Lokhova was awarded £3.2million ($4.7 million) in compensation from Sberbank for harassment. Tuesday, April 7.
Deserved cameo
"Just back from filming, I'm very impressed. I appeared in one of the scenes."
Russian attorney Anatoly Kucherena, who has represented fugitive former NSA contractor and whistleblower Edward Snowden's interests in the Russian Federation – on the biopic film "Time of the Octopus" currently being shot about Snowden. Thursday, April 9.
Taking it to the top
Russian cinema directors Nikita Mikhalkov (left) and Andrei Konchalovsky. Source: Stanislav Krasilnikov / TASS
"Taking into account the socio-political nature of the project… we request that the implementation of the project 'Yedim Doma!' ["Let's Eat at Home!" – RBTH] be committed to the Russian government."
Russian cinema directors Andrei Konchalovsky and Nikita Mikhalkov on their idea to open a fast food chain which could serve as a Russian alternative to the "Western" McDonald's restaurants. Wednesday, April 8.
All rights reserved by Rossiyskaya Gazeta.