The week in quotes: the cost of yachting, diamonds and smelly space stations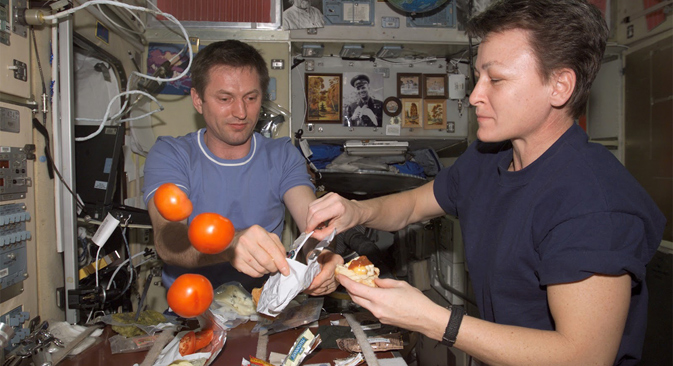 What types of food are suitable for consumption in space? Source: NASA
A famous Russian proverb says: "A word is not a sparrow. If flies out, there is no way to catch it." In this new weekly column, RBTH will try to catch the most important Russia-related quotes of the week to give you a new way to look at the news. They will be short, concise, sometimes funny, sometimes thought-provoking, but will always give you a quick look at the most important happenings of the past seven days.
Deadly yachting
"On the whole, people should not be jailed for that but shot."
Deputy Prime Minister in charge of the defense and space industry Dmitry Rogozin tweeting about the embezzlement of 96 million rubles ($1.9 million) from funds allotted for the construction of Russia's new Vostochny cosmodrome by former director Viktor Grebnev, who spent the money on yachts and a mansion. Thursday, April 16
Obkom's not dead
"This is the personal choice of every political leader and the country he or she represents. Some are unwilling to do so. I can assume this possibility. And some are prohibited to do so by the 'Washington Obkom' ['Regional Committee' – an allusion to the directives from above issued during Soviet times – RBTH] and told they should not go. Although many would like to."
Russian President Vladimir Putin on the refusal of Western leaders to visit Moscow for celebrations marking the 70th anniversary of the allied victory in WWII. Thursday, April 16.
Unhappy child
A screenshot from the movie 'Child 44.' Source: kinopoisk.ru
"Cinema lovers who can't restrain themselves from watching "fine art" can try to find the movie on harmful pirate resources. I have no doubt that the less squeamish of the "victims of the Ministry of Culture's obscurantism" will do so."
Minister of Culture Vladimir Medinsky on the Hollywood premiere of "Child 44," whose distribution was canceled in Russia because of the "falsification of the historical facts of WWII" allegedly contained in the film. Thursday, April 16.
Brilliant side effects
We've been given some specimens of kimberlite [a rare igneous rock that sometimes contains diamonds – RBTH] from one of the mines where there may be diamonds. And it turns out that our apparatus can "see" them.
Dmitry Yurkov, deputy chief designer of the Rosatom research institute, on technology that was invented for the detection of explosive materials but has turned out to be useful in the search for diamonds. Tuesday, April 14.
Smell of space
"Unfortunately, we can't eat onions during the day because we are working, and it has a specific smell. But in the evenings we cut onions and eat them with salt."
Russian cosmonaut Mikhail Kornienko on his crew's eating habits in space during an interview with RIA Novosti direct from orbit. Wednesday, April 15.
All rights reserved by Rossiyskaya Gazeta.