The week in quotes: Russia in the EU, funeral parlor tea and cosmic feelings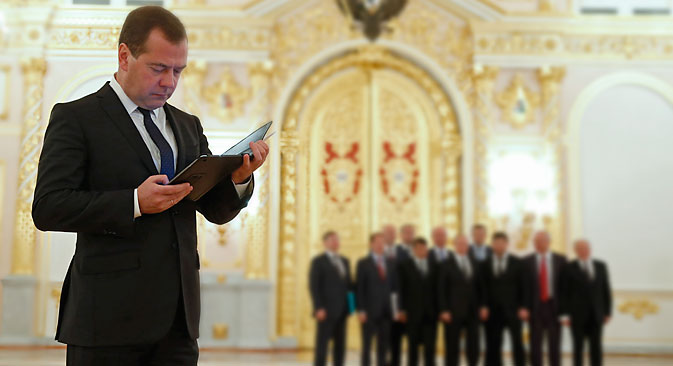 Dmitry Medvedev: "Nothing terrible is going on here. On the contrary, it testifies to the high quality of work and mutual understanding." Source: Dmitry Astakhov / TASS
A famous Russian proverb says: "A word is not a sparrow. If flies out, there is no way to catch it." In this new weekly column, RBTH will try to catch the most important Russia-related quotes of the week to give you a new way to look at the news. They will be short, concise, sometimes funny, sometimes thought-provoking, but will always give you a quick look at the most important happenings of the past seven days.
In the mood for union
"In the long-term, Russia will become a member of the EU. If you don't like this, you can consider that the EU will become part of Russia."
Czech President Milos Zeman in an interview with Czech radio. Thursday, April 23
Effectively absent
"Nothing terrible is going on here. On the contrary, it testifies to the high quality of work and mutual understanding."
Prime-minister Dmitry Medvedev on the absence of Finance Minister Anton Siluanov during a meeting dedicated to economic development issues. Friday, April 24
Funereal festivities
"Congratulating veterans on their light-filled holiday in an undertaker's office is outrageous. Funeral companies should be more circumspect when planning their advertising campaigns."
Chairman of the regional council of the United Russia party Viktor Babenko on a Yekaterinburg funeral company's desire to invite WWII veterans to its office for festive tea-drinking to commemorate the 70th anniversary of the victory over Nazi Germany in WWII. Thursday, April 23
Just a flesh wound
"Those kinds of injuries were considered light wounds during the war. That's why in the hospital the fragment was removed without anesthetic."
Russian WWII veteran Alexander Velichko on the injury to his skull from a shell fragment, in an interview with the RIA Novosti agency. Friday, April 24
Feeling spaced-out
"It's great. I recommend that everyone try this someday."
Russian astronaut Oleg Artemyev on his feelings when working in open space. Wednesday, April 22
All rights reserved by Rossiyskaya Gazeta.