Vladimir Putin reveals family's WWII ordeals in magazine article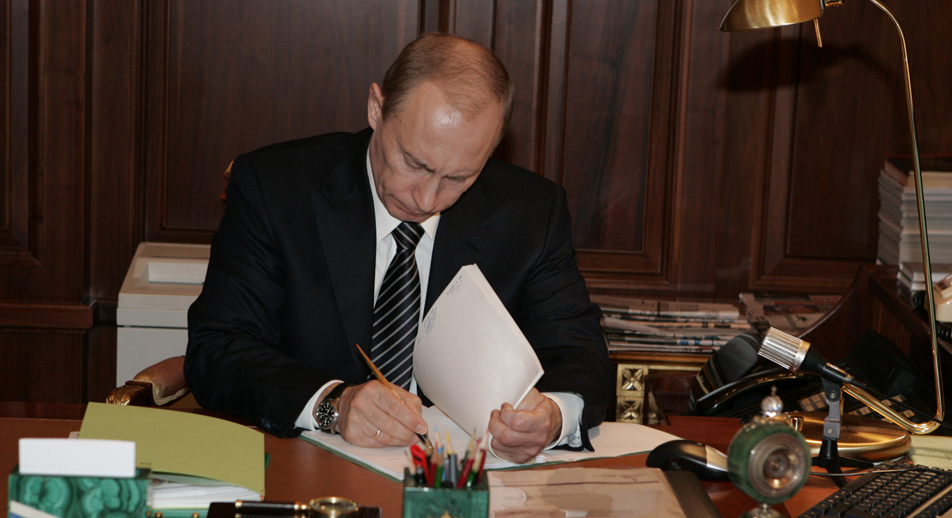 Vladimir Putrin. Source: Mikhail Klementyev / TASS
Vladimir Putin has described his parents' experiences in and around Leningrad during World War II in an article for Russky Pioner magazine. In the essay, titled "Life is a simple but cruel thing," the Russian president reveals how his father narrowly escaped death on an NKVD sabotage mission, as well as the salvation of his mother and the loss of his brother during the Siege of Leningrad.
President Vladimir Putin recently wrote an article for Russky Pioner (Russian Pioneer) magazine, describing the hardships his parents went through during World War II. The Russian leader also recounted the fate of his brother and wrote about why neither his father nor his mother never felt any hatred towards German soldiers.
According to Putin, the outbreak of war found his father as a worker in one of the many Leningrad (now St. Petersburg) factories. Although Putin Senior had the so-called bron ("reservation" in Russian) – a document providing exemption from the draft, issued mostly to defense industry workers – he still volunteered to serve after joining the Communist Party.
He was eventually assigned to an NKVD (People's Commissariat for Internal Affairs, the secret police of the time) sabotage squad. During a mission, because of a betrayal by one of the servicemen, his squad was almost completely obliterated by the Germans, who killed 24 out of his 27 comrades. Putin Senior managed to survive after spending several hours in a swamp, hiding underwater, breathing through a reed while hearing German soldiers march by.
'You are going to live, and I am going forth to die'
Afterwards the president's father was sent to the "Nevsky Pyatachok," a small but critically important spot along the Neva River near Leningrad, which had been held by the Soviet troops at the cost of tens of thousands of lives. Mr. Putin was wounded in a skirmish, but was rescued by one of his comrades-in-arms who happened to be one of his neighbors from Leningrad.
The man first dragged him across the frozen and bullet-swept river, and then carried him on his back all the way to the hospital. As described in the article, the soldier made sure the wounded Mr. Putin received proper medical attention and then told him: "Well, that's about it then – you're going to live, and I'm going forth to die." Nevertheless, the soldier managed to survive the war – Mr. Putin came across his savior in Leningrad many years later.
'She won't make it'
As the president recounts, while in the hospital, his father gave his food rations to his wife, who in turn passed it all on to her younger son, Vladimir Putin's brother. Unfortunately, doctors soon found out about this and forbade Mrs. Putin to visit her injured husband.
During the Siege of Leningrad, Putin's brother succumbed to diphtheria, and his parents didn't even know where he was buried. It was only several years later that they learned the boy was interred at Piskarevskoye Cemetery, which became the final resting place for over 500,000 people in the years of the Siege ­– both soldiers fallen in battle and civilians who died of disease and starvation.
Putin also told the story of his mother's almost miraculous salvation. While returning home from the hospital, as he approached his apartment block, his father saw paramedics taking out corpses on stretchers, and recognized his wife among the perished. Convinced that she was still alive, he asked the paramedics to stop, but they replied she wouldn't make it and would "pass over along the way."
"He told me he lashed out at them with his crutches and made them lift her back to their apartment," wrote Putin, adding that his father had nursed her back to health and that she had lived to see 1999. His father passed away one year earlier.
'How can anyone hate them?'
Vladimir Putin relates that his father had six brothers and five of them died in the war. Some of his mother's relatives were also killed in the conflict. At the same time, he emphasized that his parents had no hatred for the German soldiers. "How can anyone hate those soldiers? They were ordinary people and they also died in battle. (...) They are laborers, just like us. They were sent to the front too," his mother told him.
As Putin points out in his article, all the stories his parents told him about their lives during the war were later confirmed in one way or another.
The article is not the first contribution to Russkiy Pioner made by Vladimir Putin. Earlier, the Russian president wrote another column for the magazine, describing the sensations he lacks in his life as well as his way of managing subordinates.
Published since 2008, Russky Pioner is edited by journalist Andrei Kolesnikov, a columnist for the Kommersant newspaper who is known to be on friendly terms with the Russian president.
All rights reserved by Rossiyskaya Gazeta.