Gorbachev Foundation urges 'new Perestroika' to save Russia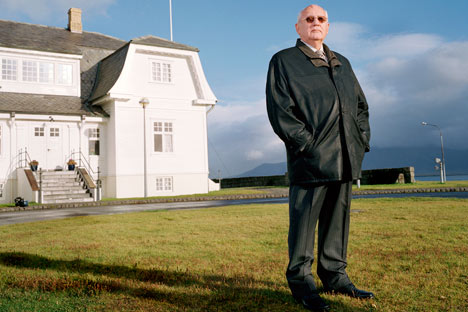 Gorbachev Foundation is a US-registered NGO founded by former Soviet President Mikhail Gorbachev in 1991. Source: Getty Images
The Gorbachev Foundation criticizes the current Russian authorities both for alleged "non-competitive and one sided resource-based economy" and "excessive centralization of state resources and power."
A leading NGO founded by ex-Soviet President Mikhail Gorbachev has released a report saying that Russian authorities should decentralize power, stimulate political competition and abandon the policy of confrontation with Western nations.
The Gorbachev Foundation timed the report, entitled 'Perestroika Values in the Context of Modern Russia', to coincide with the 30th anniversary of the start of democratic reforms. In April 1985, Mikhail Gorbachev for the first time denounced the stagnating Soviet system at the plenary meeting of the Communist Party's Central Committee and used the word Perestroika – meaning 'restructuring' or 'rebuilding' - in its modern sense for the first time.
The authors of the report call Gorbachev's reforms "an unfinished revolution" and blame their failure on several realities of early 1990s. These are the social conflicts, the Chechen war and the authorities' inability to cope with crime. All these tendencies led to a growing demand for strong authoritarian regime that could bring back order and prosperity, the researchers claim.
They go on to criticize the current Russian authorities both for alleged "non-competitive and one sided resource-based economy" and "excessive centralization of state resources and power." They also call the current state of relations between Russia and the West "a dangerous threshold of a standoff" and warn about the dangers of a new cold war as well as escalation of the existing international conflicts.
The Gorbachev Foundation warns that if the maintaining of the current tendencies in times of globalization would lead to Russia chronically lagging behind. "All attempts to ignore the norms, institutes and procedures based on democratic values would lead to a deep destabilization of the whole political system," it adds.
The researchers called upon the Russian community to return to "Perestroika values" in order to revitalize the democratic alternative.
Gorbachev Foundation is a US-registered NGO founded by former Soviet President Mikhail Gorbachev in 1991, after he was ousted from power amid the collapse of USSR. Gorbachev remains the president of the foundation to this day.
The latest opinion polls demonstrate that the overwhelming majority of the Russian public supports the current course of the authorities. Research conducted by independent pollster Levada this month reads that 86 percent of Russians approve of Vladimir Putin's activities as Russian president. Sixty-two percent of respondents named Putin as their most-trusted politician.
First published by RT.com.
All rights reserved by Rossiyskaya Gazeta.