Russian troop deaths, in war or peace, now classified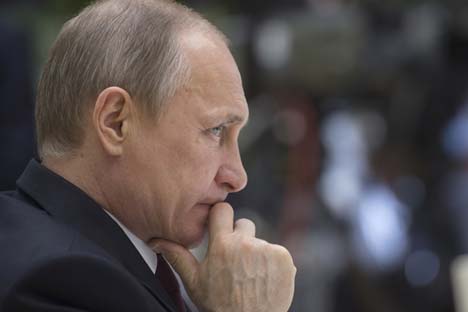 Russian President Vladimir Putin. Source: Reuters
Russian troop deaths, even during peacetime, will now be classified as secret information after President Vladimir Putin signed a new decree expanding the scope of information that will be categorized as a state secret. While some analysts said the defence and security establishment was too "open" and this step was necessary, opposition leader Alexei Navalny said the move was aimed at suppressing troop losses in eastern Ukraine.
If Russian soldiers die during special operations, even during times of peace, their deaths will not be reported, as servicemen's deaths are now officially classified as secret information.
The presidential decree, which came into effect on May 28, expands the range of state secrets to not only include dead troops, but also water supply map systems in cities with a population of 200,000 and more, information about mines, metro systems or "other structures that may be used in the interest of national defence."
The new order signed by President Vladimir Putin now also makes it illegal to disclose details about people whom the nation's foreign intelligence agencies plan to recruit for covert or confidential activities. It will also be illegal to reveal any information about the protective measures or number of people guarding specific facilities, like sites of national importance, as those details are also now deemed state secrets.
Overdue measures?
The State Duma Committee on Defense praised the expansion of the list as "right" and "necessary."
"I worked at a defense plant and remember that it was forbidden to take a picture even of its appearance from the side of the checkpoint in the 1980s. In the 1990s, it was frequented by foreign delegations, and they walked and copied whatever they could. We have almost completely destroyed the security system," committee member Alexei Zhuravlev said in an interview with RIR, adding that the state has started "restoring it at last."
Zhuravlev said that "in fact, any special operation is a state secret, along with information on the number of participants, equipment, and so on."
According to Maj. Gen. Sergei Kanchukov, former head of intelligence of the now-defunct Siberian Military District and Russian forces in Chechnya, the decree was necessary and is related to security, the geopolitical situation and efforts to protect national interest, and is "not an attempt to close off from society."
According to him, previously the Russian authorities did not pay enough attention to security and were "highly open."
"By and large, we are too late with the adoption of this decree. We should have done this earlier," said Kanchukov.
Navalny hits out at decree
Opposition figurehead Alexei Navalny was quick to make the link between the new law and the conflict in eastern Ukraine, in which Russian troops are suspected of participating despite official declarations to the contrary. There have already been a number of incidents in which efforts were taken to cover up the mysterious deaths of Russian servicemen, including a well-publicized case involving paratroopers from the Pskov Airborne Forces in August 2014.
"Now the activity of looking for victims of the 'special operations' in Ukraine <...> will be a violation of state secrets," he said, commenting on the decree in his blog. "Let soldiers die. Let their relatives keep quiet. Those who do not agree – we'll jail them for espionage," said Navalny.
'Protecting individuals'
According to assistant professor at the Moscow State Law University and lawyer Alexander Manov, however, the decree is "aimed at protecting individuals involved in armed conflicts in one way or another," he said, including protecting them from military tribunals, the question of which is "constantly brought up by representatives of international and regional organizations."
However, said Manov, "the supervisory institutions of the United Nations have not been abolished," and they are "have absolutely no interest in what our president or our deputies have adopted."
In this regard, Manov did not exclude that numerous problems will emerge in legal practice, although he sees the expansion of the list as justified: There is a global trend toward the development of legislation on state secrets and confidentiality, he claimed.
All rights reserved by Rossiyskaya Gazeta.