MacArthur Foundation to close office in Russia over restrictive new laws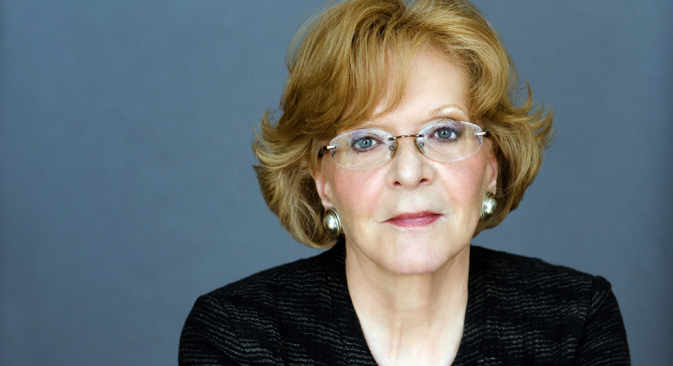 MacArthur President Julia Stasch: "The recent passage and implementation of several laws in Russia make it all but impossible for international foundations to operate effectively and support worthy civil society organizations in that country." Source: The MacArthur Foundation
The U.S.-based MacArthur Foundation has announced that it is to cease its work in Russia in connection with new legislation that seeks to limit the activities of foreign organizations seen as a threat to national security. The MacArthur NGO, which receives no funding from the state, has awarded $172 million to Russian higher education, human rights and campaigns to limit nuclear weapons proliferation since 1992.
The MacArthur Foundation, an American fund recently included on a list of foreign organizations whose work in Russia was seen as a threat to national security by senators of Russia's Federation Council, has decided to close its branch in Moscow.
"It is with regret, but with confidence that it is the right decision, that we share the news that the MacArthur Foundation will close its branch office in Moscow," the foundation has said in a statement posted on its website.
The organization notes that this decision was made because of two new Russian laws that impede the operation of foreign organizations in the country: a law requiring Russian NGOs to register as foreign agents if they receive foreign funding and engage in "political activities" and a law allowing authorities to declare the activities of international organizations "undesirable" if they present "a threat to the foundations of the constitutional order of the Russian Federation, the defense capability of the country or the security of the state."
"These laws, public statements by Russian legislators, and the vote by the Federation Council to include MacArthur on a 'patriotic stop-list' of organizations recommended for designation as 'undesirable' make it clear that the Russian government regards MacArthur's continued presence as unwelcome," the statement says.
The MacArthur Foundation noted that the organization's activities in Russia have always had charitable aims.
"We are entirely independent of the United States government and receive no funding from it," reads the statement. "We have never supported political activities or other actions that could reasonably be construed as meeting the definition of 'undesirable.'"
"In the process of closing our office, the fund promises to take all reasonable steps in accordance with law to ensure the safety and well-being of the staff and to work with its grantees to minimize disruption and harm to them."
According to the statement, since the fund was established its office in 1992, it has awarded more than $173 million in grants to further higher education in Russia, advance human rights, and limit the proliferation of nuclear weapons.
Russia's Federation Council unveiled the so-called "patriotic stop-list," comprising 12 foreign organizations whom senators suspect of activities detrimental to national interests, on July 8. The list consists of eight American, three Ukrainian and one Polish organization, and includes well-known bodies such as Freedom House, the MacArthur Foundation, the Soros Foundation and others.
According to Russian human rights movement veteran and Moscow Helsinki Group leader Lyudmila Alexeyeva, the departure of MacArthur Foundation from Russia is a loss for Russian civil society.
"It is a pity. This is a loss for civil society, of people living in Russia. It is clear why they have decided to leave – they are simply unable to work here," Alexeyeva told the Interfax news agency on July 22.
The foundation was engaged in education projects in Russia and financed Moscow Helsinki Group's human rights school for years, she said.
"The foundation heads visited Moscow several months ago; they came to me and asked what they could do for Russian civil society. I told them they could do nothing because they would not be allowed to work here. I advised that they shift to Ukraine the effort and money they had been investing in very important work in Russia," said Alexeyeva.
"This is just the kind of situation, when the law [on "undesirable organizations"] has yet to begin functioning, but its consequences are already present," Tatyana Lokshina, program director at Human Rights Watch in Russia told Russian business daily Kommersant. "This is one of the mechanisms that is plunging Russian civil society and NGOs into increasing isolation and is cutting Russia off from full international cooperation."
According to Lokshina, "the very fact" that the "patriotic stop-list" was released is keeping "international organizations in Russia on edge": "As a result some will decide to leave by themselves. This will inflict enormous damage to Russian NGOs above all," she said.
The Kremlin, meanwhile, has refused to comment on the decision by the MacArthur Foundation to end its activities in Russia. "It's not the Kremlin's agenda," said presidential press secretary Dmitry Peskov in response to questions from journalists about the American fund and its relationship to the "patriotic stop list."
All rights reserved by Rossiyskaya Gazeta.