Land lease to Chinese farmers: Siberian residents want referendum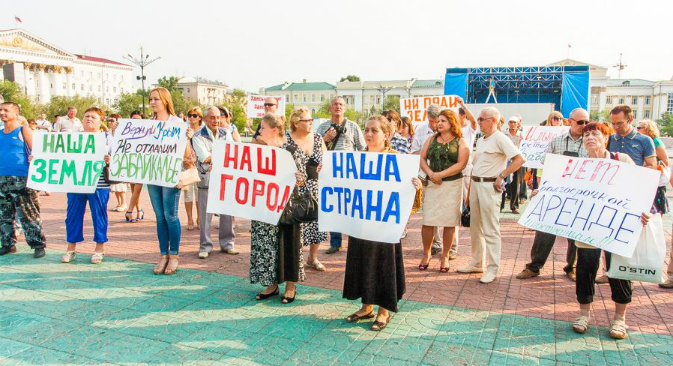 A rally was held in Chita against the lease of Siberian farmland to a Chinese company. Source: Ksenia Zimina
Some residents of the Zabaikal Territory want the Russian Government to hold a referendum on the contentious issue of leasing Siberian farmland to a Chinese company. The Volunteers of Zabaikalye public movement held a rally in Chita against the transfer of land to Huae Xingbang.
Around one hundred members of the Volunteers of Zabaikalye public movement held a demonstration in Chita on July 23 against the leasing of farmland to China's Huae Xingbang, a subsidiary of Zoje Resources Investment. Members of the movement plan to gather 30,000 people for a rally on August 30.
The activists want to initiate a referendum on the leasing of the land to Chinese company Huae Xingbang, according to Stanislav Zakharov, one of the organizers. Many residents of the region have expressed outraged over both the period of the lease, which is 49 years, and the size of the donated area, which is 115,000 hectares.
"This issue must be resolved by locals," Zakharov said. "In 49 years, we won't be here, and no one will remember whose land it is. But its area is larger than Hong Kong. In addition, the Chinese remove topsoil from the Russian lands and swamp it."
He noted that if local and federal authorities don't react to the demonstrations, the protestors are ready to take "drastic measures, such as hunger strikes."
In early June, the Zabaikal Territory Government signed a memorandum of understanding with Huae Xingbang, which, according to TASS, does not have any experience in farming. The Chinese company is ready to invest 24 billion rubles (around $410 million) in the development of the land.
Huae Xingbang also promised to reserve 75 percent of all jobs in the farmland for locals.
According to a preliminary agreement between the Chinese company and the Russian region, if the project is successful, the leased area could be extended to 200,000 hectares.
First published in Russian by Kommersant.
All rights reserved by Rossiyskaya Gazeta.