Putin clear choice for another term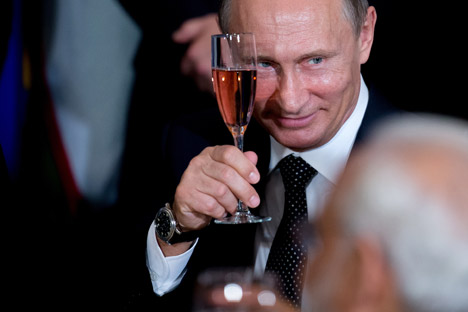 The widespread support of Russians is exactly what prevents Putin from leaving.
AP
Vladimir Putin has laid down conditions for his nomination in the 2018 presidential elections. Political scientists speak about the likelihood of another term for the Russian President and whether he has chosen a successor.
Russian President Vladimir Putin has stated his conditions for nomination to the 2018 presidential elections. He has said it all depends on the situation within the country and his own disposition. He said this in response to a question in an interview with American television channels CBS and PBS on how long he intended to stay in power.
"Without a doubt, there are rules set out in the constitution, and I personally will not breach these rules," Putin said, referring to the constitutional rule prohibiting an individual from holding the presidency for more than two terms in a row. "But I am not certain whether I should take full advantage of these constitutional rights," said Putin, evading a direct answer.
Earlier, at a press conference with journalists in December 2014, he had said his decision would depend on the general state of the country.
The president does not need to bind himself to promises which will limit his political freedom and reinforce accusations about failures to change the country's leadership, often voiced by the opposition in Russia, said Alexei Mukhin, Director of the independent Centre for Political Information. Analysts predict that Putin's nomination for another term is the most likely scenario.
"Don't change horses in mid stream"
It is possible that the Russian president will choose to stand for election for another six years, and stay in power until 2024, suggests one Dmitry Orlov, a political scientist considered close to the Kremlin and Director of the Agency of Political and Economic Communications. Taking into account his popularity and trust levels he enjoys, which are likely to be maintained till 2018, Putin's chances for re-nomination are good.
"The widespread support of Russians is exactly what prevents him from leaving," agreed Mukhin. "After all, his popularity is being preserved when there is increased international pressure on Russia. "At present he is quite effective at fulfilling his duties, he has a balanced team, each person is fulfilling his role. Why change anything?" Mukhin explained. "He would leave sooner if social and economic prosperity appeared."
The poor state of the economy, too, is unlikely to be a reason to hand over his position. "You don't change horses in mid stream," said Mikhail Remizov, President of the independent National Strategy Institute. Among the key parameters are Putin's health and public opinion trends, which are not as predictable as they appear. "General (Charles) de Gaulle resigned, while still quite a popular politician. But a substantial part of (French) society was very tired of him, he was carrying the burden of defeat in Algeria, and in general had done what he needed to do, so he initiated his departure. We do not yet know what will be the situation in the Donbass. We cannot rule out that Putin, in such a case, will not do something similar", said Remizov. There have been a lot of unexpected events in recent years and it is probably not wise making any predictions, he said, "the situation is difficult in many respects."
Complete consensus
So far there are no visible indications of a change in the public's mood. Alexander Pozhalov director of research at the Institute of Social, Political and Economic Research, considered close to the Kremlin, observed that data from February electoral ratings by the sociological service Levada Centre suggest that since December 2013, there has been a large increase in the number of people wanting to see Putin as Russia's president post 2018.
In 2013, 47% of Russians wanted a different leader, while in February 2015 that number had dropped to 25%.
Also, various political organizations support Putin's reelection, believes Pozhalov. "We are now seeing that even the parliamentary opposition is dividing Putin's policies into foreign and domestic arenas. The same Communists who have traditionally criticized the government's methods, generally support the goals that Putin has set."
No desire for a different leader.
Other analysts suggest that it is not the case that other alternatives do not exist. "In the political establishment, there are many worthy individuals", said Mukhin.
"There is a certain expectation surrounding Dmitry Medvedev [the prime minister] and Sergey Ivanov [head of the president's administration], but it is a type of expectation among the elites, so far no one has any obligations," suggests Remizov. "The more they discuss the potential for a successor, the more harm they do to the politician," comments the political scientist: "For this reason such hints and associations are feared and avoided."
All rights reserved by Rossiyskaya Gazeta.