Candid Putin: 10 moments that reveal the man behind the mask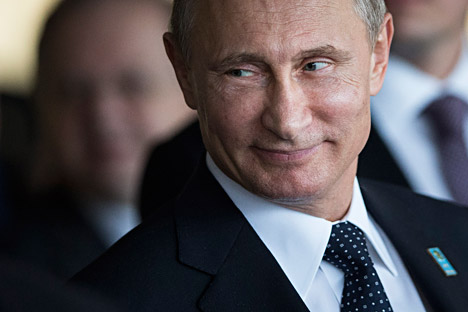 Russia's President Vladimir Putin leaves the Itamaraty Palace after attending the final day of the BRICS Summit in Brasilia, Brazil, Wednesday, July 16, 2014.
AP
Today Vladimir Putin turns 63. To mark the occasion, RIR has picked 10 photos depicting the Russian leader at various emotional moments in his career over the last 10 years.
The president's fine hearing sometimes betrays him: on the way to the Elysee Palace in Paris he stopped to discern a journalist's question. October 2, 2015, Paris. Source: AP
Vladimir Putin told Russian business a secret: try to develop more quickly while the West has not lifted its sanctions. May 26, 2015, Moscow. Source: AP
Vladimir Putin could not restrain his emotions as he watched the launch of the Angara rocket from the Plesetsk cosmodrome. December 23, 2015, Moscow. Source: AP
Having decided to establish the New Development Bank, with a cost of $100 billion, before leaving the president blew the journalists a soft kiss. July 15, 2014, Brasilia. Source: AP
Vladimir Putin did not hide his tension when the issue of where the future Winter Olympic Games would be held was being decided. July 4, 2007, Guatemala. Source: Reuters
The Prime Minister is trying to explain to Russian parliamentarians the importance of investing in the birthrate. April 20, 2011, Moscow. Source: Reuters
During the session of the World Health Organization the Russian prime minister is showing what will happen to those who do not lead a healthy life. April 28, 2011, Moscow. Source: Reuters
Prime Minister and presidential candidate Vladimir Putin "burst into tears" of joy in front of his electors during a demonstration in the center of Moscow. March 4, 2012, Moscow. Source: Reuters
Vladimir Putin spoke at an annual conference after the ruble's drastic fall and said how he would get Russia out of the crisis. December 18, 2014, Moscow. Source: Reuters
Prime Minister Vladimir Putin warmly embraces the German shepherd given to him by Bulgarian Prime Minister Boyko Borisov. November 13, 2010, Sofia. Source: Reuters
All rights reserved by Rossiyskaya Gazeta.