Vladimir Putin on terrorism, Syria and Russia's foreign policy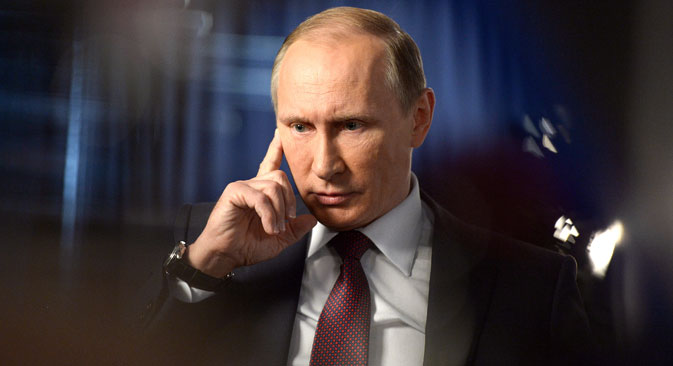 Vladimir Putin. Source: Alexey Nikolsky / TASS
Alexey Nikolsky / TASS
Russian President Vladimir Putin gave an interview to Rossiya-1 television channel presenter Vladimir Solovyov on Oct. 11. He spoke about the military operation in Syria, fighting with terrorists, and the ambitions of Russian foreign policy.
On terrorism
"This [the bombing in Ankara] is an attempt to destabilize the situation in Turkey, our neighbor and Russia's friend. The fact that this has happened during an election campaign is a sign of a clearly provocative act. But we will be effective in combating terrorism only if we fight this evil together."
"I do not understand some of our colleagues in Europe and the United States though, when they say they are fighting terrorism, but we see no real results. What's more, it's a well-known fact that the Americans have shut down the program to train the Free Syrian Army.
"They started out with plans to train 12,000 people, then said they would train 6,000, and then they trained only 60 people, and it turned out in the end that only 4–5 people are actually out there fighting ISIS. They spent $500 million on this.
"They would have done better to give $500 million to us, and we would have put it to better use in terms of fighting international terrorism, that's for sure."
On Syria
"We informed our partners of our plans beforehand. We informed our American partners and many others, especially the countries in the region concerned, of our plans and intentions."
"Some say that we left this too late, but let me point out that others, when planning and commencing their operations, never inform us, but we informed them."
"We prepared for these operations. We carried out preliminary work that involved concentrating sufficient forces, resources and equipment in the right place at the right time. We did a lot of close, long-term intelligence gathering from space and from the air, and then we analyzed all of the information obtained through various channels."
"Our General Staff specialists, working in coordination with our Syrian partners and other countries in the region, have established an information center in Baghdad, as you know. The data exchanged through this center has added to our overall information. Thus, everything that is taking place in the air or on the ground is not spontaneous action, but the implementation of plans prepared in advance."
"We make no difference between Shiites and Sunnis. A sizeable part of Russia's population – 10 percent – is Muslim. I have said many times that they are every bit as much citizens of Russia as Christians or Jews, and we make no difference between people. "
"We have absolutely no desire to get entangled in inter-religious conflicts of any sort in Syria."
On weapons and Russian military policy
"…This is not about an arms race."
"We planned our armed forces modernization program several years ago, when the international situation was not in the tense state it is in today."
"We drafted and started carrying out this program not because we were preparing for aggressive action, but simply because the main attack systems our armed forces had at their disposal were gradually becoming obsolete and it was time to replace them."
"Russia has a peaceful foreign policy, and this is no exaggeration. If you look at the political map of the world and Russia's place on it, it is obvious that we have no need for others' territory or natural resources. We have enough resources of our own and we have no need for war or conflict with anyone else."
All rights reserved by Rossiyskaya Gazeta.