3 key areas in Russia-Indonesia ties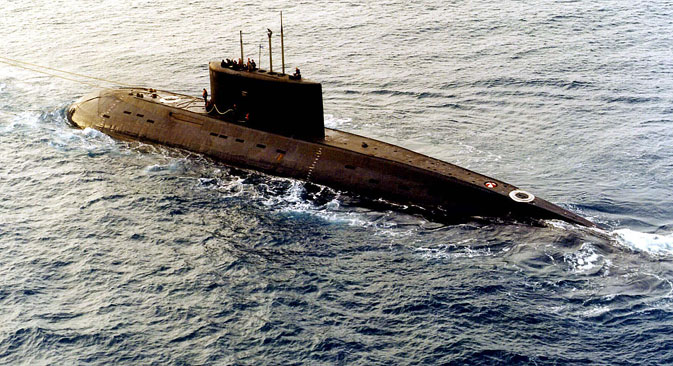 A Russian-built, Kilo-class diesel submarine.‏ Source: Reuters
RBTH looks at the most important areas in Russia-Indonesia bilateral relations, which have been on the upswing over the last 10 years.
Defense
In September 2015, the Indonesian government said it would buy a squadron of Sukhoi Su-35 fighters to replace its outdated U.S.-made F-5 Tigers. Jakarta also plans to buy 5 Russian submarines.
Initially Indonesia looked at buying Kilo-class diesel electric submarines, but later chose the more advanced Amur-class submarine, which is the export version of the Lada-class.
Russia is ready to loan Indonesia $3 billion for these purchases.
According to industry analysts, Indonesia may also be looking to buy medium-range anti-aircraft missiles. The country already has a number of Sukhoi fighter jets, Mi-17 and Mi-35 helicopters, BMP-3 amphibious infantry fighting vehicles, one BTR-80 wheeled amphibious armored personnel carrier and Kalashnikov AK-101 and AK-102 rifles.
Nuclear energy
In June 2015, the countries signed a Memorandum of Understanding on the construction of large nuclear reactors and floating nuclear power stations.
In an interview with RBTH Indonesia, the country's ambassador to Russia Djauhari Oratmangun said nuclear power plants could help meet Indonesia's growing demand for electricity.
Infrastructure
Russian Railways has a 50 percent stake in the Kalimantan Rail Company, which is building a 300 km-long railway line linking Central and East Kalimantan provinces.
By 2019, the company plans to finish around 190 km of the railway line and construct a seaport terminal in East Kalimantan for coal exports.
During his visit to Moscow in September 2015, the governor of East Kalimantan Awang Faroek Ishak said his province would also like to use the railway to export palm oil, timber and other resources. Passenger services are also under consideration.
All rights reserved by Rossiyskaya Gazeta.