Russia has no right to be vulnerable: Putin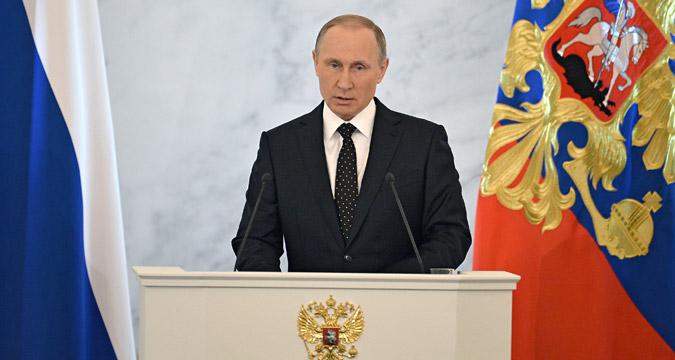 December 3, 2015. Russian President Vladimir Putin delivers his annual Presidential Address to the Federal Assembly at the Kremlin's St. George Hall.
Ramil Sitdikov/RIA Novosti
On Dec. 3, Russian President Vladimir Putin delivered his annual address to the Federal Assembly. RIR presents a summary of the Russian leader's main points.
On terrorism
Russia has long been at the forefront of the fight against terrorism. This is a fight for freedom, truth and justice, for the lives of people and the future of the entire civilisation.
We know what aggression of international terrorism is. Russia faced it back in the mid-1990s, when our country, our civilian population suffered from cruel attacks.
It took us nearly a decade to finally break the backbone of those militants. We almost succeeded in expelling terrorists from Russia, but are still fighting the remaining terrorist underground. This evil is still out there. Two years ago, two attacks were committed in Volgograd. A civilian Russian plane was recently blown up over Sinai.
International terrorism will never be defeated by just one country.
Russia has demonstrated immense responsibility and leadership in the fight against terrorism.
We must stop our debates and forget our differences to build a common anti-terrorist front that will act in line with international law and under the UN aegis.
On Turkey
We know who are stuffing pockets in Turkey and letting terrorists prosper from the sale of oil they stole in Syria. The terrorists are using these receipts to recruit mercenaries, buy weapons and plan inhuman terrorist attacks against Russian citizens and against people in France, Lebanon, Mali and other states.
We remember that the militants who operated in the North Caucasus in the 1990s and 2000s found refuge and received moral and material assistance in Turkey.
Meanwhile, the Turkish people are kind, hardworking and talented. We have many good and reliable friends in Turkey. They should know that we do not equate them with the certain part of the current ruling establishment that is directly responsible for the deaths of our servicemen in Syria.
We will never forget their collusion with terrorists. We have always deemed betrayal the worst and most shameful thing to do, and that will never change. I would like them to remember this – those in Turkey who shot our pilots in the back, those hypocrites who tried to justify their actions and cover up for terrorists.
If they expected a nervous or hysterical reaction from us, if they wanted to see us become a danger to ourselves as much as to the world, they won't get it. They won't get any response meant for show or even for immediate political gain.
Our actions will always be guided primarily by responsibility – to ourselves, to our country, to our people.
On economics
Russia has no right to be vulnerable. We must have a strong economy, excel in technology and advance our professional skills. We must fully use our current advantages, as there are no guarantees that we will have them tomorrow.
Last year we faced some serious economic challenges. Oil and other products we traditionally offer for export fell in price. The access of Russian financial institutions and companies to global financial markets was restricted.
We must be prepared for low commodity prices and external restrictions to last much longer. By changing nothing, we will simply run out of reserves and the economic growth rates will linger around zero.
We need to further strengthen trust between the Government and business, to improve the business climate in Russia.
The Government, together with the Agency for Strategic Initiatives and leading business associations, should continue their systematic work to improve the conditions for doing business, constantly monitoring how laws are carried out locally.
On cooperation with other states
We are interested in broad business cooperation with our foreign partners, and we welcome investors who focus on long-term work on the Russian market, even though the current circumstances they face aren't always favourable. We highly appreciate their positive attitude to our country, and the fact that they see advantages for growing their respective businesses in our country.
We have reached the next level of cooperation within the Eurasian Economic Union by creating a common space, with free movement of capital, goods and labour. We have reached a basic agreement on combining Eurasian integration with the Chinese Silk Road Economic Belt. A free trade zone with Vietnam was established. Next year, we will host the Russia-ASEAN summit in Sochi, and I am sure we will be able to work out a mutually beneficial agenda for cooperation.
All rights reserved by Rossiyskaya Gazeta.