Putin denies Panama Papers corruption charges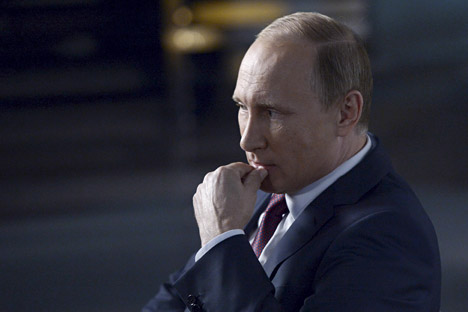 Russian President Vladimir Putin.
Reuters
The president has said he is proud of friendship with musician Sergey Roldugin who featured in the recent Panama Papers offshore schemes revelations.
Russian President Vladimir Putin has dismissed corruption charges contained in the recent Panama Papers offshore schemes revelations.
"All of you here are journalists, and you know what an information product is," he said. "They've thrown the spotlight on those off-shores. Yours truly is not there, so there is nothing to talk about, but the task remains. What did they do then? They produced an information product - found some acquaintances and friends. They've dug up some stuff and pieced it together."
Putin mentioned a photograph his in which he stands in the forefront with some unknown people behind.
"That's the sort of stuff they have been trying to sell. There is allegedly some friend of Russia's president. He did this and that. Possibly this may have a corruption side to it. What sort of? There is nothing of the kind," Putin said. "Behind all that there are certain officials and official agencies of the very same United States, let us put it this way. WikiLeaks has just shown that. Sometimes they dare take too many liberties in public. We've already heard apologies for that from some Administration officials. Not because they feel ashamed, but because they are cleverer than those who had done that."
"When US Department of State or US Administration officials say some rude things, that means that they expose themselves as interested persons," which is bad for the United States from the standpoint of achieving the end result. "And this is very good for us, because we know well who ordered the music," Putin said.
The president has also said he is proud of friendship with musician Sergey Roldugin, a cellist who featured in the recent Panama Papers revelations as a close friend of the Russian president.
"I am proud to have such a man among my friends. I am proud of him in general," Putin told the 3rd media forum of regional and local mass media Truth and Justice.
"He has spent almost all money he has earned to purchase musical instruments abroad and to bring them to Russia," Putin said.
The International Consortium of Investigative Journalists (ICIJ) published on Sunday some 11.5 million documents revealing "the offshore links of some of the planet's most prominent people." The leak includes material on hidden financial dealings of a range of Russian legal entities and individuals. The reports, which became known as Panama Papers are based on a leakage of information from the Panamanian company Mossack Fonseca, which provides legal assistance in offshore registration of companies. The complete archive of the company has not been published. According to head ICIJ Gerard Ryle, the company did not disclose the entire database and is not going to do that.
First published by TASS.
All rights reserved by Rossiyskaya Gazeta.