Russia will not do anything to harm its relationship with India: Russian MP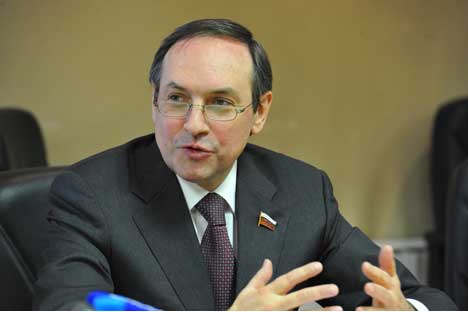 Vyacheslav Nikonov was in New Delhi for the Raisina Dialogue. Source: PhotoXpress
Vyacheslav Nikonov, Chairman of the Russian State Duma Committee on Education, spoke to RIR on the sidelines of the Raisina Dialogue in New Delhi. The MP batted for Russia-India ties and shrugged off talk of a Russia-Pakistan rapprochement.
Russia cherishes its relationship with New Delhi and will not do anything to damage bilateral ties, Russian political scientist and member of the lower house parliament, Vyacheslav Nikonov told RIR on the sidelines of the Raisina Dialogue in New Delhi on Jan. 19.
"I am a participant in the Russian foreign policy debate, both public and non-public, and to be honest, over the last year, I do not remember anyone saying anything about Pakistan," Nikonov, who is Chairman of the Russian State Duma Committee on Education, said. "The very idea of alleged Russia-Pakistan rapprochement is not visible from the Russian point of view."
Trying to put to rest the mass speculation in the Indian media about a slow deterioration in Indo-Russian bilateral relations, he added, "It is natural that Russia cherishes its relations with India, and does not and will not do anything to hurt them."
At the three-day Raisina Dialogue, Nikonov said Russia and India enjoyed a rare kind of relationship since they have "never ever in history" been in a direct confrontation. "We welcome India's rise as a superpower," he said.
A new world order?
More than 250 participants from 65 countries gathered in New Delhi to take part in the second edition of the Raisina Dialogue, which was organized by India's Ministry of External Affairs along with the Observer Research Foundation (ORF), a prominent think tank.
Inaugurated by Indian Prime Minister Narendra Modi, the three-day conference raised thought-provoking questions about the future of the existing world order and led to lively debate on whether there is indeed a so-called "new normal" state of international relations that emerged with the U.S. losing its role as a dominant power and emerging powers increasingly challenging the post-World War II global structure.
At the key session of the conference, titled 'The New Normal: Multipolarity and Multilateralism,' participants seemed to agree that the principles of the old multilateral order and institutions built to serve them must adapt and adjust to the new realities of an increasingly multipolar world.
Nikonov said the world was till in the process of moving from what was normal yesterday to the unknown. He added that it was too early to draw conclusions about how a "new normal" might look like.
"Does Donald Trump represent a new normal, or abnormal, or old normal? Is Brexit a new normal for European Union," he asked addressing the participants of the forum. "Do India and China rising as new superpowers represent a new normal or at all normal? As for India and China, I think it is a very-very old normal, and India and China are just coming back."
Along with former Afghan President Hamid Karzai, Nikonov pointed out that a "new normal" should mean cooperation between different civilizations and dialogue between great powers. The expansion of the Shanghai Cooperation Organization (SCO) might provide a good example of this, he said.
Deputy Foreign Minister of Iran Seyed Kazem Sajjadpour added that in this new global context regional powers are becoming more important. Despite the diversity of a modern world, the commonality is more significant. According to him the old kind of diplomacy gains its importance back with the foundation of multilateral diplomacy standing at the bilateral level. "The era of big powers is over, and now we are living in the era of multilateralism," he said.
Decoding Trump's presidency
The uncertainty about the future policies of Donald Trump was a hot topic during many sessions. American speakers, including Lisa Curtis, senior research fellow of the Heritage Foundation, argued strongly that the progress made in Indo-U.S. ties during the term of President Barack Obama would be supported by the new administration.
What remains under doubt now is how Washington's relationship with Beijing may evolve. It is quite likely that there are going to be tensions and this will inevitably influence other actors in the region, most importantly Russia and India, according to Georgy Toloraya, Executive Director of National Committee on BRICS Research.
"It is not yet clear how the situation will develop. It is going to be very agile and there are going to be many factors that might have an influence on it," he told RIR on the sidelines of the conference.
Other Russian participants of the forum such as Alexander Gabuev, director of the Moscow Carnegie Center's Asian Program and Fedor Voitolovsky, a leading expert from the Primakov National Research Institute of World Economy and International Relations, welcomed the broad range of issues discussed during the panel discussions, from climate change and inequality to foreign policy and cybersecurity.
With India increasingly playing a more active role in the region and integrating in global transport routes, Russia is also taking steps to support regional developments. Nikonov added that Russia supported the general concept of China's Silk Road initiative, and that it would open up new trade routes.
If using any of Russia Beyond's content, partly or in full, always provide an active hyperlink to the original material.