New standardized regulations introduced for Russian hotels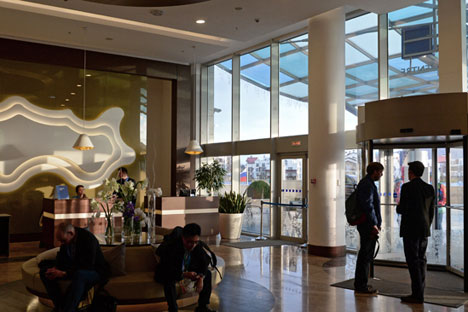 The lobby at the Radisson Blu Resort & Congress Centre in Sochi, which is the International Olympic Committee's official hotel during the 2014 Olympic Games.
Ria Novosti/Valery Melnikov
Guests will pay half-rate if they check in at midnight and leave by noon.
Under new rules, Russian hotels will have to tell clients which services they will have to pay for before their stay, and if a guest checks in at midnight and checks out by noon, they will be charged for only half a day.
All hotels will have to abide by the new rules, which went into effect on Oct. 21, excluding tourist youth camps, institutional dormitories, camping sites and children's camps.
Prices for all services and the hotel owner's details have to be indicated at the reception. In order to stay at the hotel a guest will need to present his or her passport, regardless of whether he is Russian or a foreigner.
Check-in and check-out time is noon. Those who check in at midnight and check out before noon will pay for half of the day. Hotels are required to serve their clients 24 hours a day, except for those with fewer than 50 rooms, which are allowed to determine opening hours by themselves.
Hotels must provide their lodgers with certain free services, such as calling the ambulance or the police, the use of a first-aid kit, delivering mail to guests and supplying them with boiling water, needles and thread, and dishes and cutlery.
All rights reserved by Rossiyskaya Gazeta.