Unforeseen circumstances led to Sinai plane crash - Russian experts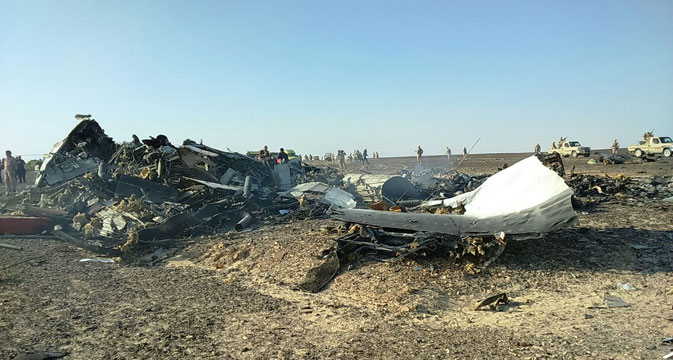 Debris from crashed Russian jet lies strewn across the sandat the site of the crash in Sinai.
EPA
Aviation experts in Russia rule out bad weather and technical reasons for the crash that claimed 224 lives. Russian authorities refuse to speculate on the reasons.
Although Russian authorities have still not reached any conclusions on what caused the crash of Metrojet flight 7K9268 on the Sinai Peninsula on October 31, Russian aviation experts believe something unforeseen happened on board the Airbus A321 aircraft.
Victor Gorbachev, an aviation expert from the Russian Association of Civil Aviation, told reporters that the plane could not have crashed because of weather conditions. He believes that there must have been some kind of emergency on board.
Magomed Tolboyev, a former test pilot and the president emeritus of the Interstate Aviation Committee (an organisation that investigates air crashes) told reporters that he "hardly believes that the crash was somehow due to technical issues, as an Airbus can fly even with one working engine."
The crash of the Airbus A321 aircraft claimed 224 lives.
The flight recorders have been found and are apparently in good condition, Russian officials say. They are waiting for "reliable evidence" that may be available after the flight recorders are examined.
"We think it would be unreasonable to speculate on what happened before we have any reliable evidence on hand," a Russian Federal Air Transport Agency spokesman told reporters.
Various versions
A militant group affiliated to Islamic State in Egypt said it shot down the plane, but the Russian Ministry of Transport and Egyptian Prime Minister Sherif Ismail dismissed this claim.
A statement from the Egyptian Civil Aviation Ministry said the plane's wreckage was found in the Hassana area some 70 kilometres south of the city of el-Arish. This is general area of northern Sinai where Egyptian security forces are fighting local Islamic militants, who recently claimed allegiance to the Islamic State.
The flight from Sharm el-Sheikh to St Petersburg crashed within 23 minutes after takeoff.
According to some media reports, the pilots requested an emergency landing before the plane went off radars. However, Egypt's Minister of Civil Aviation Mohamed Hossam Kamal denied these reports in an interview with the BBC.
Russia's Investigative Committee has opened two legal cases to determine the cause of the crash.
Metrojet was founded in 1993 as Kogalymavia and later renamed. According to the Russian media, the biggest accident with Metrojet's planes happened on January 1, 2011, when a Tu-154 liner burnt down before taking off. Three people were killed.
All rights reserved by Rossiyskaya Gazeta.