Ukraine begins repair work on sabotaged Crimea power lines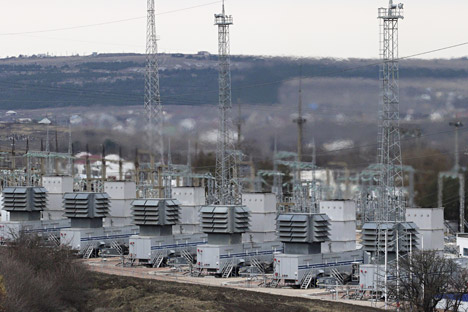 A general view shows the facilities of a mobile gas turbine generator, which was turned on due to recent power outages after pylons carrying electricity were blown up, in the settlement of Stroganovka, Simferopol, Nov. 22, 2015.
Reuters
Work has begun on the restoration of power lines connecting Ukraine with Crimea after activists blew up several pylons, causing an almost complete blackout on the peninsula. It will take three days to carry out the work – but the restoration of the line does not mean that energy export to Russia will resume.
Ukrenergo, Ukraine's national power company, has started repairing the Kakhovskaya-Titan power line to Crimea, which was blown up by Ukrainian and Crimean Tatar activists on Nov. 21 , causing a power blackout that has affected most of the peninsula's 2 million residents and put key services out of action.
The line is one of four that had supplied electricity to Crimea, a formerly Ukrainian territory that was controversially seized by Moscow in March 2014 and subsequently incorporated into the Russian Federation, though the peninsula's new status has not been internationally recognized. Both Ukrainian nationalists and Crimean Tatars are opposed to Russian rule in Crimea.
On Nov. 24 Ukrenergo Press Secretary Zinovy Buzio stated that repair work had begun, but said that the restoration of the line does not mean that supplies of electricity to Crimea will automatically be resumed.
"It will depend on agreements between the protesters and the Kiev authorities," said Buzio.
For now the Crimean Tatar and Ukrainian activists who blew up the electricity pylon and are now blocking the repairmen's access to them have allowed Ukrenergo experts to examine just one pylon. The repairmen have dismantled the pylon, cleaned up the territory and are setting up a replacement.
"The other three pylons that were blown up are not being repaired. The protesters have let the Ukrenergo workers examine only the groundings," a source close to the Ukrainian Energy Ministry told Kommersant.
Ukrainian Energy Minister Vladimir Demchishin says that the incident does not threaten the Ukrainian energy system. However, Co-Chairman of the Ukrainian Energy Strategy Foundation Dmitry Marunich does not agree, pointing out that during the winter period electricity shortages in Ukraine will reach 5 GW during peak loads.
"Before, we would buy it in Russia, but now this is becoming problematic since Ukraine has violated an agreement according to which it would buy electricity in Russia and then supply it to Crimea," said Marunich.
However, formally, these two contracts, which concern Ukraine buying Russian energy on its eastern border and then exporting Ukrainian power generation to the Federal Crimean Area, are separate documents and do not imply an agreement, though the de facto signing of these contracts at the end of 2014 took place contemporaneously.
On Nov. 23 Russian Energy Minister Alexander Novak said that he does not exclude Russia taking "retaliatory measures" and on the following day he stated that Moscow may stop supplying Ukraine with coal.
First published in Russian in Kommersant
All rights reserved by Rossiyskaya Gazeta.