Amur the tiger snubs goat's food in Primorsky safari park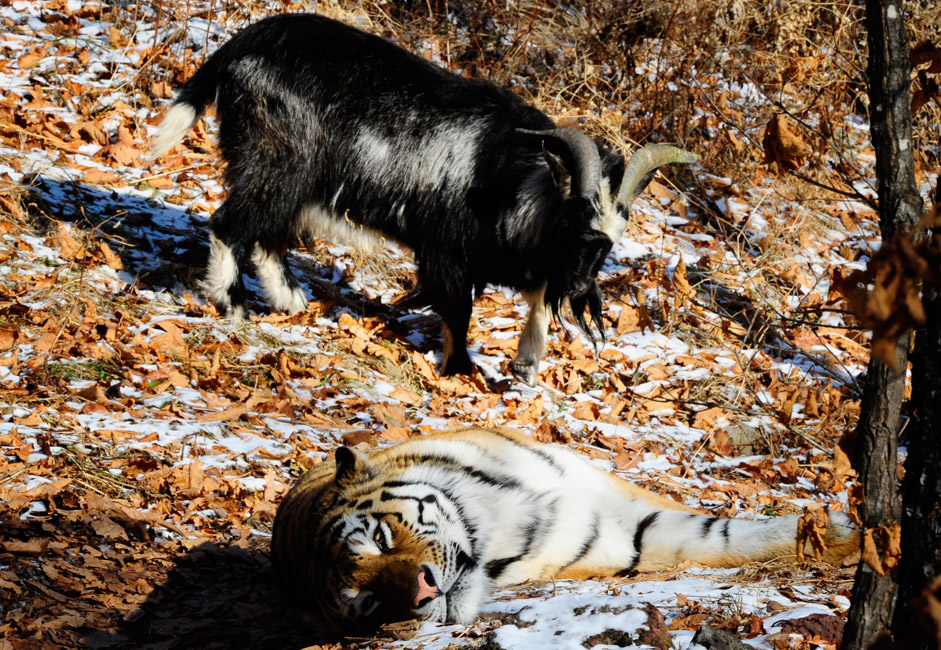 Amur, a Siberian tiger, and Timur, a goat, in Safari Park in the village of Shkotovo, Dec. 6.
Yuri Smityuk/TASS
The tiger has tried food intended for hoofed animals
Amur the tiger who made friends with his prey, Timur the goat, in the Primorsky safari park has tried food intended for hoofed animals.
"Amur is licking a salt brick [for hoofed animals] intended for Timur. Look at that! He is licking salt. He will be playing with it. And now Amur is sniffing Timur's vegetables and hay. Is Amur thinking about being a vegetarian?" safari park director Dmitry Mezentsev said in his comments on a new video posted on the park website.
He said that hoofed animals love salt bricks but he had never seen a tiger licking salt before.
The video showed the tiger licking the salt brick and playing with it before drinking water. It seemed Amur did not like the salt and took a look at the other food of Timur - vegetables and hay. It sniffed the food and left without touching it.
Source:ALEKS SHTORM/ Youtube
The video also showed the two animals playing. Timur the goat reared up, and the tiger ran away from it without showing signs of aggression.
"Yes, indeed, Amur and Timur sometimes play with one another. We have seen this many times," Mezentsev said.
Earlier reports said Amur the tiger had made friends with his prey, a goat, in the Primorsky safari park. Amur can hunt goats and rabbits but has spared the bold goat.
Amur and Timur walk together in a large cage during the day. The goat has taken the tiger as its leader and constantly follows it. Besides, the tiger is giving hunting 'lessons' to the goat. A shed and thick decking have been built for Timur so that he can sleep near his friend.
All rights reserved by Rossiyskaya Gazeta.