Medvedev: Russia is capable of surviving recession without aid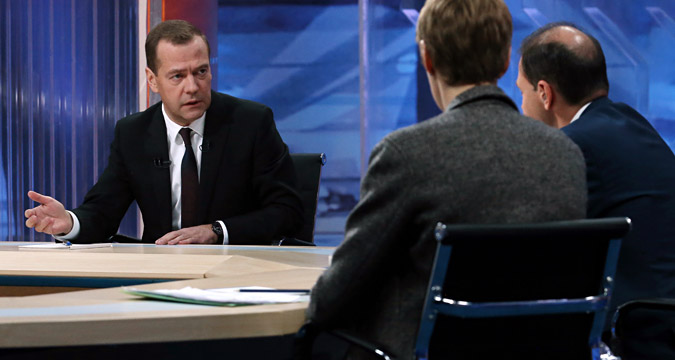 Prime Minister Dmitry Medvedev gives an interview to Russian journalists in a live broadcast, Dec. 9, 2015.
Yekaterina Shtukina/RIA Novosti
In his annual interview to five of the country's leading television channels on Dec. 9, Russian Prime Minister Dmitry Medvedev tackled topics ranging from the economy to defense, corruption, Crimea, and Ukraine's $3 billion debt. RBTH presents a selection of highlights from the interview.
On economics
"The situation in Russia is currently difficult, but recent years in general have not been easy for the country. Speaking about my perspective, I can say that the anti-crisis plan has delivered on its objectives. It has enabled us to withstand the most difficult period of this year and this plan has brought results in virtually all areas that we identified as the most important. I can say that the decline of the economy and the fall in production have been arrested.
"We are proceeding based on the fact that next year we will already grow. The relative optimistic assessments of economic growth are around 1 percent.
"Of course, we are proceeding at the moment from a realistic scenario. But we would be bad managers if we didn't have a plan B and even plan C if necessary for such a situation.
"Our economy has proven to be self-sufficient. Let's say it directly: Not every country has a self-sufficient economy. Some countries are incapable of living without external assistance. But our country, no doubt, is capable of living and developing even under such conditions."
On officials
"About the system of declaring of officials' incomes — there we still have a lot of work. The corruption situation has not changed significantly. This is one of the main evils.
"Our officials are accustomed to using more expensive cars than their foreign colleagues. Cars should be ordinary middle class [vehicles].
"The government should always take decisions on the reduction of state machinery. We have decided to reduce the administrative bloc by approximately 10 percent starting next year.
"It has been decided to reduce vacations for civil servants. They've had more rest than other categories of citizens anyway."
On defense
"Russia decided to enlarge its defense budget about five years ago. I think we were not mistaken, we were absolutely right because by then, unfortunately, the condition of our military hardware and the condition of our armed forces as a whole were far below standard. We have increased these expenses to the global level by now.
"We have the task of rearming our armed forces with armaments and new military hardware by 2020 by practically 70 percent. This task will be accomplished. There is no doubt about that.
On Crimea
"What happened in Crimea with the electricity can't be called anything but genocide. This is completely boorishness, an absolutely thuggish position, as people say. What can you call it? A rotten act, you can't call it anything else."
"We have plans to construct two new power stations in Sevastopol and Simferopol, and Crimea will have an energy surplus."
On Ukraine's $3-billion debt to Russia
"I have a feeling that they will not repay it because they are fraudsters.
"Of course, we cannot tolerate this [non-payment of $3 billion], and we will go to court, we will press for default on the credit and default on all Ukrainian borrowings.
"They are refusing to repay the money and our Western partners are not only not helping us, but are interfering in this."
Subscribe and get RBTH best stories every Wednesday
All rights reserved by Rossiyskaya Gazeta.