Meet Alexander Gorelov – the firefighter who adopted 15 children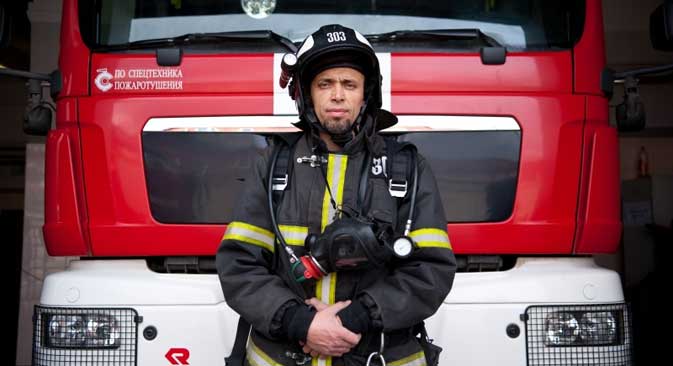 In 2011, Alexander Gorelov was named "Russia's Best Firefighter." But he is a hero and rescuer not only at work, but in life. Today, he has no fewer than 21 children, 15 of them adopted.
Alexander Gorelov is not exactly your regular firefighter. The emergency worker, who serves in the district of New Moscow, in the southwest of the Russian capital, was awarded the title of "Russia's Best Firefighter" in 2011.
But Gorelov, who first decided to pursue a career protecting the city from fires back in 1993, is more than just a firefighter – he is also a father of 21. He and his wife Lilit have six children of their own: Arman, Karen, Anton, Anna, Artur, Liza – as well as 15 adopted children.
In 2002, the Gorelovs established the House of Mercy, which assists adolescents and "difficult" children. Today, Lilit is the center's director, and her husband is her chief assistant.
Source: mchs.gov.ru
"I myself lost my parents as a child. I ended up in an orphanage," said Gorelov. "I was raised by my aunt. And Lilit embraced unwanted children wholeheartedly when she was a social worker."
The Gorelovs help those children whom most services are incapable of helping.
From hardship to happiness
Each of the Gorelovs' adopted children has a sad story in the past – have they experienced hardships, hunger and deprivation. Today, these children learn to build a life for themselves.
As a child, Alexei was a homeless child. Today, he is a college student, a future chef. Yevgeny, meanwhile, lived for a long while as a tramp. Now, he says, he has difficulty recognizing himself in old photographs.
"I can't even believe that once I lived in the street," said Yevgeny, who studies at a firefighting college.
Source: mchs.gov.ru
Vitya is now 14. He is perhaps the most "difficult" in the family. His story was once widely featured in the media; newspapers called him a "Mowgli child," and wrote about how his family kept him in the same room with a dog for five years. Today, Vitya has got an ID, he is capable of doing many things and wants to become a train driver on the Moscow subway.
Quang Nguyen – Kolya – is Vietnamese; he wants to become an economist and plans to enroll in university this year. Little Nikita, meanwhile, is being raised by one of the Gorelovs' other adopted children, their daughter Ella. For Gorelov and his wife, the toddler is an adopted grandson.
The house in the village of Devyatkino, where the Gorelovs live, is their rental housing. Most recently, they entered a Moscow program for a pilot project to help foster families. Under its terms, families that adopt five children – teenagers and the disabled – receive free housing.
The large family lives a full and happy life, with the children attending a variety of extra-curricular activities after school, including music classes, sports, and speech therapy sessions.
For many, it remains a mystery how Gorelov and his wife manage to teach these "difficult" children to live like everyone else. And while for his family, Alexander Gorelov is a hero even without his professional merits, for the rest, he is a double hero – both in his work and life.
First published in Russian in Moskovsky Komsomolets.
All rights reserved by Rossiyskaya Gazeta.