Tiger Amur and goat Timur play game of tag in Primorye safari park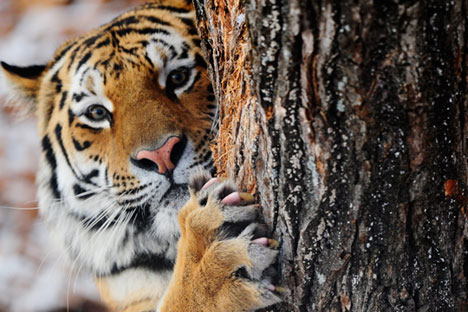 Amur, a Siberian tiger, in Safari Park in the village of Shkotovo, Dec. 6.
Yuri Smityuk/TASS
Amur and Timur continue to amaze Primorye safari park visitors
Amur the tiger and Timur the goat continue to amaze Primorye safari park visitors with their friendship and games.
"Happy visitors of the Primorsky safari park led by guide Denis Lushin saw an interesting thing on December 9 - Amur and Timur were playing a game of tag," park director Dmitry Mezentsev said.
Video by YouTube / safaripark25.TV
The friends were chasing one another and Timur caught up with the tiger. After that the goat invited his predator friend to match strength; he pointed his horns at Amur and the tiger rose to the challenge, he said.
"The tiger pressed its forehead against Timur's horns. The friends locked 'horns' for about five seconds and then Amur quietly left to lie in the sun on a hill," Mezentsev said.
Unfortunately, that moment was not filmed because the guide was not carrying a camera, the director said.
Later a park employee caught on camera the tag game played by Amur and Timur. The new video posted on the park's website shows Timur chasing Amur, who eventually turns back and chases Timur. The tiger does not, however, behave aggressively.
"This video is proof that Timur and Amur are playing, they are friends. Watch and be surprised. See, Timur is not running away from Amur. They are playing," Mezentsev said.
He added that the Primorye safari park administration had decided to broadcast the animals' life live.
"At the insistent request of website visitors, we have decided to install web cameras in the Primorye safari park. Any person will be able to see online 'if Timur is still alive'," he said.
Specialists are considering an optimal web camera solution, he said.
Earlier reports said Amur the tiger had made friends with his prey, a goat, in the Primorsky safari park. Amur can hunt goats and rabbits but has spared the bold goat.
Amur and Timur walk together in a large cage during the day. The goat has taken the tiger as its leader and constantly follows it. Besides, the tiger is giving hunting 'lessons' to the goat. A shed and thick decking have been built for Timur so that he can sleep near his friend.
All rights reserved by Rossiyskaya Gazeta.